Qingyan ancient town, located in the southern suburb of guiyang, is one of the famous historical and cultural cities in guizhou province. Founded in 1378, qingyan is an ancient town covering an area of 300 hectares (740 acres). Today, due to its long history and strong cultural atmosphere, the town has become an attractive destination for many domestic and foreign tourists.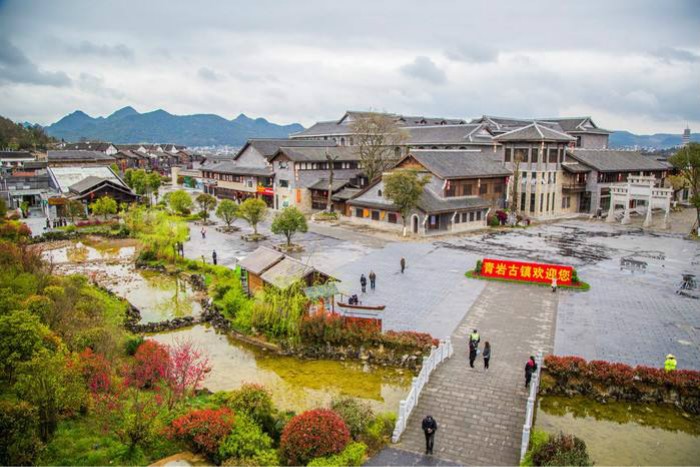 Qingyan town was built in the early Ming dynasty (1368-1644) for military reasons. Because of its location, zhu yuanzhang, the first emperor of the Ming dynasty, established it as a place to convey military messages and accommodate standing armies. After years of modification and restoration, qingyan ancient town gradually became an ancient town with cultural characteristics of the Ming and qing dynasties (1644-1911).
Although the ancient town of qingyan is small in area, it has a reasonable architectural style, hundreds of ruins and profound cultural deposits.
Due to the local geological conditions, qingyan ancient town is built entirely of stone. Visitors will be able to see the spectacular walls built on the cliffs, where huge rocks divide the bluestone into inner and outer parts. There were four doors on the wall, facing north, south, east and west. Beyond the four gates, there are originally eight stone tablets, which are considered to be the symbol of qingyan ancient town. Of the eight pieces, three have elaborate sculptures on each surface. One of the most famous is zhao ethics-baisui (longevity star) fang.
Walking into the inner city, visitors are sure to marvel at the ancient buildings. Monasteries, temples, pavilions, caves, courtyards, palaces and more than 30 kinds. They were all designed by highly skilled architects in the Ming and qing dynasties. The stone carvings of ciyun temple, the wood carvings of shou Buddha temple and other exquisite items are worth a look. You can visit the old commercial street and enjoy the elegant classical wooden houses. If you like, go to those teahouses and sample some of the famous local snacks, such as smoked tofu, rice tofu and brown sugar.
It is also rich in religious culture, including Buddhism, Taoism, Catholicism and Christianity. If you are interested in Buddhism, you can take this opportunity to learn the typical buddhist culture here. At the same time, you will also be impressed by the Taoist way of speaking. What's more, you'd be surprised how many of its residents are Catholic and Christian, since Catholicism was introduced by a French priest in 1851 and Christianity nearly 70 years ago. When traveling there, visitors will hear stories of many historical figures who were born or lived here. The first "no.1 scholar" in guizhou in qing dynasty was Mr. Zhao yijiong, who was born and raised in qingyan town. Dr. Sun yat-sen's general secretary, Mr. Chang pinggang, was a countryman of qingyan town.
Facebook Comments