The Shanghai portman acrobatic show is one of the best in Shanghai. Currently, it is performed at the Shanghai center theatre (uptown acrobatic performance center) and Yunfeng theatre. The Shanghai portman acrobatic show is a typical acrobatic show that USES traditional folk art to tell the story of Shanghai's history.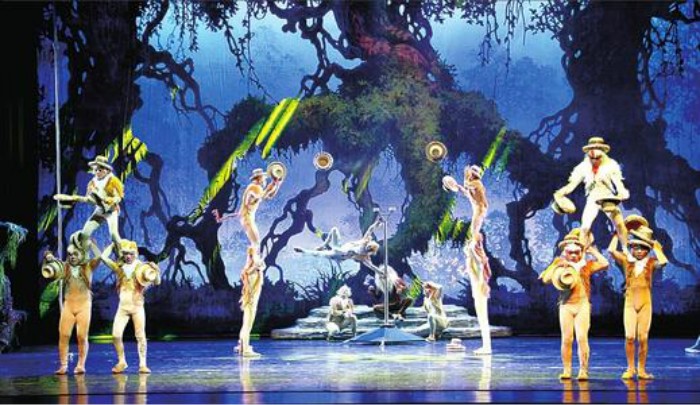 The Shanghai acrobatic show was performed by the Shanghai acrobatic troupe. They have performed for many foreigners from all over the world and gained a good reputation and popularity among tourists. Watching Chinese acrobatic shows has a great impact on your body and mind. You will truly have an unforgettable experience.
The Shanghai portman acrobatic show, also known as the spiral, consists of three main parts: autumn sun, moon shadow and rosy clouds. It has a total of 15 performances: shaking thick stick, blowing bamboo, balancing chair, one hand stand, rolling circle dance, jumping circle, nose bridge balance, turning plate, shaping, rolling flowerpot, hanging rope, martial arts performance, bowl tower, big springboard, fishing net dance.
"Unique bowl flip" – the pagoda of the bowl, requires mastering several skills simultaneously: riding a unicycle with one foot, balancing a higher and higher, more and more rickety pile of bowls on his/her head, kicking and catching several bowls simultaneously on his/her head. Each successive flip was done with more bowls, and the bowls that had been caught were piled high over her head. As the stack of bowls above her head grew higher (and therefore more unstable), the performer had to be very careful not to let them fall. At some point, the performer must blindly grasp the flipped bowl because he/she cannot hold up his/her head without letting the bowl that has already landed on his/her head fall.In the scene of the Shanghai portman acrobatic show, the big gangplank, also known as the manmade ladder, is famous and popular. It won three gold MEDALS in the acrobatic competition. The reviews for the Shanghai acrobatic show were fantastic!
Facebook Comments