Tianmen mountain, known as yunmeng mountain in ancient times, is the highest mountain in yongding district of zhangjiajie, 8 kilometers north of the city. The main peak is 1518.6 meters and was approved as a national forest park in July 1992.
Someone entitle this mountain as the most beautiful flower garden in the sky and the fairly land in the boundary of heaven. It is worth to visit for the miraculous and unique geographic landform and Unparalleled natural landscape, as well as for its profound cultural connotations and famous colorful humanistic site.
Tianmen cave, a rare world wonder, is 131.5 meters high, 57 meters wide and 60 meters deep. The mountain tops are relatively flat, with intact primary and secondary forests, many of which are extremely valuable and unique plant species, and a forest coverage rate of 90%. During the period, the ancient trees, vines winding, moss covered, stalagmites, stone buds are walking everywhere, as if the nature of bonsai, known as the world's most beautiful hanging gardens and celestial wonderland.
Tianmen Mountain Cableway: The World's Longest Cableway
The cableway in Tianmen Mountain is the world's longest at a length of 24,458 feet (7,455 meters). It begins in the City Garden downtown, and ends on the summit. It hangs like a rainbow, and hints of being a dragon in the clouds. The cableway throughput is 1,000 passengers per hour, and it averages 28 minutes per trip. In high season you have to wait in line for hours.
The Cliff-Hanging Walkway
The walkway was built along the edges of this mountain's summits, clinging to the vertical cliffs. The walkway is about 1.6 kilometers long, about 1,400 meters high.The cliffside loop takes about 1½ hours. At the end of the walkway, there is a hanging bridge linking two peaks.It is always busy and crowded along the walkway. You may find you need to fight for a place to take photos. Avoiding the crowds is essential for you to enjoy the highlights and take good photos.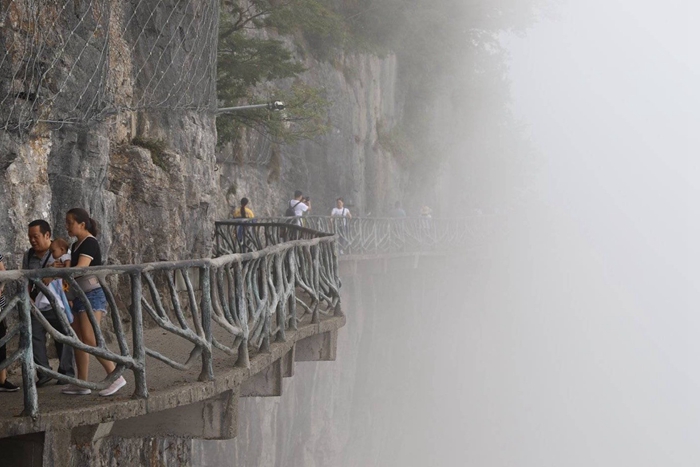 Facebook Comments