Crescent Lake is nearly 100 meters long from north to south, about 25 meters wide from east to west, the Lake is shallow from east to west, the deepest is about 5 meters, curved like a crescent moon, hence the name, "the first Lake in the desert" said, since the han dynasty is "dunhuang eight scenery" one of the national scenic spots in 1994.
Crested Lake inside the growth of grass and plants, the south bank of the dense reeds, surrounded by quicksand, although in strong wind and the Lake is not covered by sand. Because "the Lake reflects the moon and has no dust", "ancient sand does not fill the Lake, the Lake does not dry up" and become a wonder. Mingsha mountain and crescent Lake is a pair of twin sisters in the desert gobi, "the mountain to the spirit and therefore Ming, water to god and yi xiu." Have "sing sand mountain happy, crescent Lake wash the heart" feeling.
Yueya Lake is one of the outstanding natural landscapes in dunhuang. It is famous for its "desert wonders" throughout the ages, and is known as "one of the great sights beyond the Great Wall". The crescent Lake, the mogao grottoes nine-story building and the mogao grottoes artistic landscape are one of the "three wonders" in the southern part of dunhuang city, and have become a tourist destination for people in China and even the world.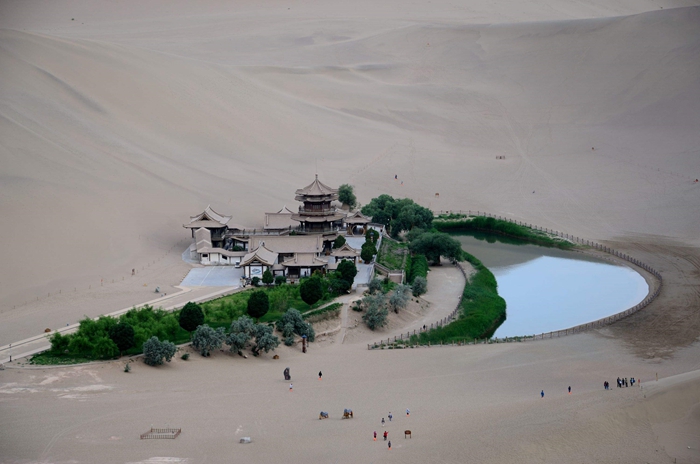 The earliest Western record about the Crescent Lake is the book The Gobi Desert wrote by Mildred Cable & Francesca French. While traveled in Dunhuang region, they visited the Crescent Lake, and recorded in their travelogues – "All around us we saw tier on tier of lofty sand-hills, giving the lie to our quest, yet when, with a final desperate effort, we hoisted ourselves over the last ridge and looked down on what lay beyond, we saw the lake below, and its beauty was entrancing."
You may how did the lake originate in the desert, and how can it never dry out? There are so far two different explanations but none of them is verified. Some people indicate it is the remained lake of ancient river – Danghe River. Danghe River changed its way, and most of its watercourses were covered by sand mountains. While the Crescent Lake region is in the lower position, and still can get water supply from underground water. Some people say there is a fault on the southern side of the lake edge. The water supply is from the underwater from the higher fault.
Then how can the lake never be covered by the moving sands? Because the mountains on the southern and northern sides of the Crescent Lake are much higher than then mountains on the eastern and western sides. The winds blow from west to east or from east to west will carry the falling sands up to the back sides of mountains. So the sands can never move to the lake.
Facebook Comments