Anren ancient town is located in the west of Chengdu plain, 41 kilometers away from Chengdu.
The ancient town of anren has a long history. It was built as early as AD 620. It belongs to Giongzhou, Jiannan province. It is also called the Town of Chinese Museums because it enjoys more than 40 old mansions and more than 30 museums, among which Liu's Manor, Jianchuan Museum Cluster and mansions in three ancients streets are most famous. Featured architectures involving solemnity, elegance and appropriateness make Anren Ancient Town the Cultural Essence of Architecture in Western Sichuan.
Walk into the ancient town of anren, and witness the antique streets, the houses on both sides of the street are blue bricks and tiles, brick and wood structure, plank pavement, the ancient town of anren presents the former manor old street building Chinese characteristics, during the wei liu mansion, hundreds of huaku, tall and spacious, preserved very perfect. In the garden buildings, the buildings are symmetrical, pavilions, rockery and waterside pavilion, winding corridors, rattan flowers, fragrance, the environment is very quiet. After dozens of steps, to anren middle school a hundred acres of campus, see the classrooms, houses dotted, school buildings row upon row, campus trees, flowers in full bloom, there can accommodate thousands of people auditorium and pavilion ten zhang bell tower, leaving more than half a century old campus of the beautiful shadow, has become a Chengdu university, training thousands of talent! Became one of the highest universities of Dayi.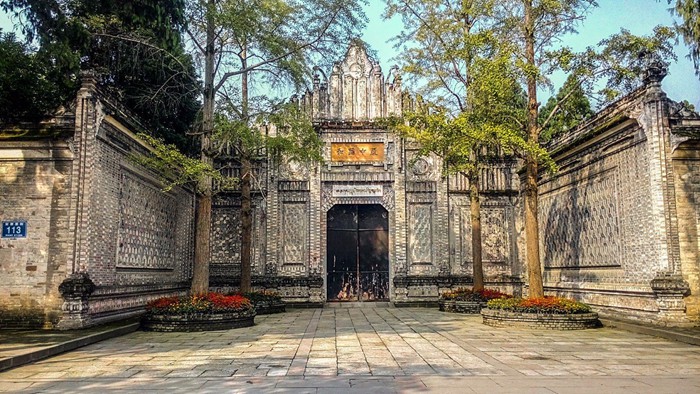 Main Attractions
Liu's Manor
Liu's Manor contains former residence of the big landlord Liu Wencai in south area and his brother Liu Wenhui's new mansion in north area. Nowadays, Liu's Manor Museum is Liu Wencai's former residence while Western Sichuan Folk-custom Museum refers to Liu Wenhui's mansion.
Liu's Manor Museum, is mainly made up of Xu Hall, Employers' Hall, Living Scenes of Liu Wencai, Clay Sculptures of asking rents, and Cultural Treasure Hall where 20 thousand cultural relics and large amounts of literature information are kept. These collections combined with distinctive manor make a great contribution to learning and researching on the economy, culture, Sichuan warlord history and folklore in semi-colonial and semi-feudal China. In other words, Liu's Manor Museum shows an epitome of old china or a section of the history of China social development.Liu Wenhui's Mansion, with a size of approximately 50 thousand square meters equivalent to five football fields, is the largest-scale mansion in the plentiful mansions. In fact, Liu Wenhui never lived there because the gorgeous mansion was built just to depict his high status.
Jianchuan Museum Cluster
Covering an area of 500 mu, Jianchuan Museum Cluster (or Jianchuan Museum) is the largest folk museum in China invested by Mr. Fan Jianchuan. There are over 8 million collections here, including 404 Class-One National Treasures. With the theme of "collecting warfare for peace, collecting lesson for future, collecting disaster for stabilization and collecting folk-custom for inheriting", Jianchuan Museum Cluster is hailed as National 4A Scenic Spot, Patriotism Education Base, National Culture Industry Demonstration Base and Forest Park of Relics and Museum. What's more, Log Angeles Times even praised it as an example of "the increasing openness about the way recent history is viewed in China"
Facebook Comments