Beijing Opera is extolled as 'Oriental Opera'. Having a history of 160 years, it has created many 'firsts' in Chinese dramas: the abundance of repertoires, the number of artists, opera troupes and spectators.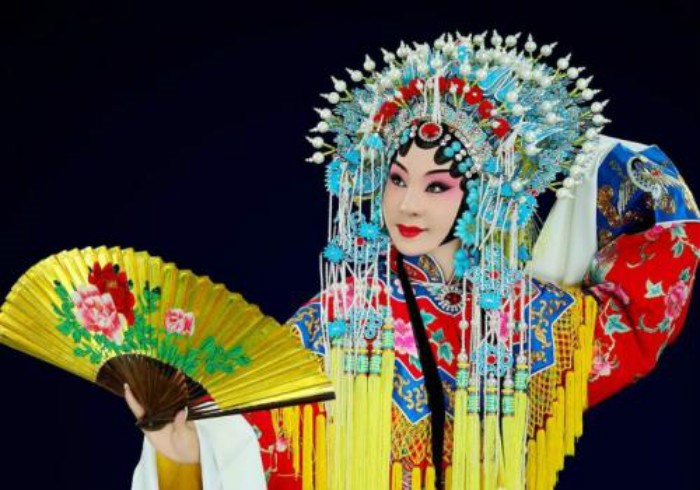 Beijing Opera is developed from absorbing many other dramatic forms, mostly from the local drama 'Huiban' which was popular in South China during the 18th century. It is a scenic art integrating music, performance, literature, aria, and face-painting. Certain rules are set up and regulations are standardized during many artists' long practice on stage. Different from regional plays, it is stricter on the variety of the workmanship. The combination of virtual and reality – a special technique of expression, keeps it largely free from the restriction of time and space on stage performance. Beijing Opera has had many interesting names since it came into being, such as Jinghuang, Daxi, Pingju, Jingxi.
History
Its main melodies originated from Xipi and Erhuang in Anhui and Hubei respectively, It is believed that Beijing Opera gradually came into being after 1790 when the famous four Anhui opera troupes came to Beijing. Beijing Opera underwent fast development during the reign of Emperor Qianlong and the notorious Empress Dowager Cixi under the imperial patron, eventually becoming more accessible to the common people.
It has a history of more than 200 years. It is a form of traditional Chinese theater which combines music and acrobatics. It arose in the late 18th century and became fully developed and recognized by the mid-19th century. The form was extremely popular in the Qing Dynasty. The art form is also enjoyed in Taiwan, where it is known as Guoju. It has also spread to other countries such as the Unite States and Japan.
Four Roles
There are four roles in Beijing Opera – Sheng(a male role, usually a leading one), Dan(female roles), Jing(painted-face roles) and Chou(Clown role). These roles have the natural features of age and sex, as well as social status, and are artificially exaggerated by makeup, costume and gestures. All but the second portray a male or masculine character. Until recently, even that of the female or feminine character was played by a male actor.
Sheng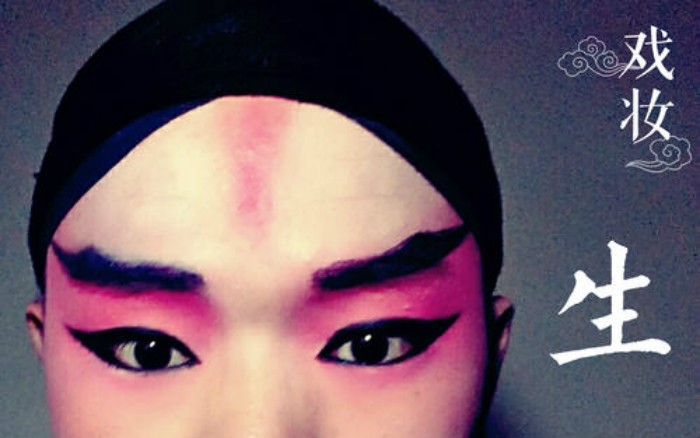 It's a common name of male characters and composed of Lao Sheng and Xiao Sheng. Lao Sheng refers to the middle-aged man with a beard who acts as the decency figure; for example, Zhugeliang in 'Empty City Scheme'. Xiao Sheng means young man without a beard. Zhangsheng in 'The Story of the West Room' is a representative of Xiao Sheng.
Dan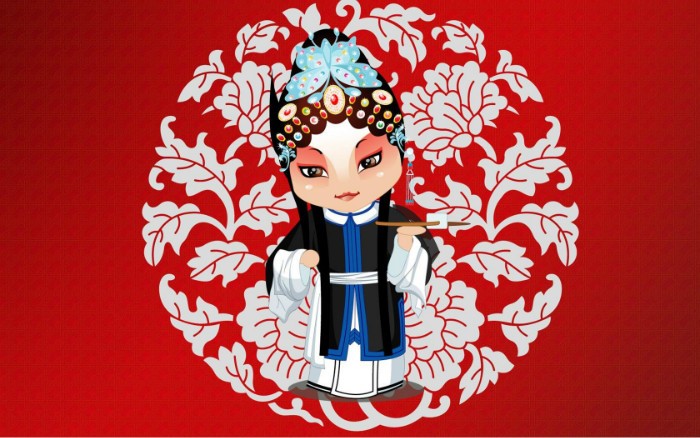 The general name for female characters can be divided into Zhengdan, Huadan, Laodan, Wudan. Zhengdan is also called 'Qingyi', who mainly plays the part of the strong-minded middle-aged woman who behaves elegantly. Huadan refers to little girls who often live in the bottom of society. Laodan refers to the senior woman and Wudan indicates the female who is good at fighting.
Jing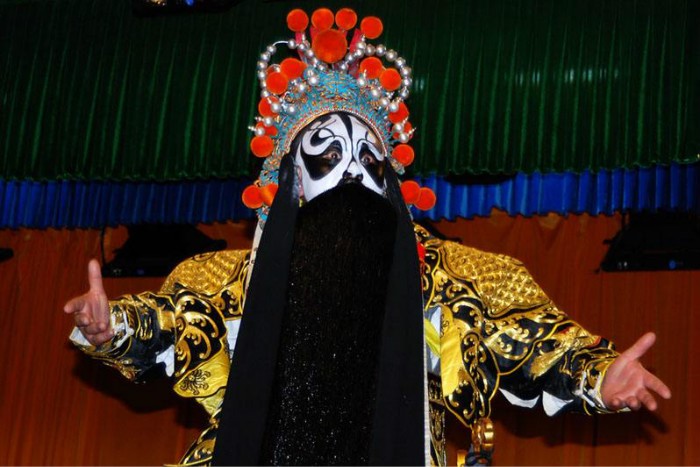 Painted face often refers to male characters with unique appearance or personality, such as Baozheng and Caocao. Besides, Chou is a comic role or villainous character or righteous person. The actor's nose is painted by a piece of white powder, making him or her easily recognizable.
Facial Painting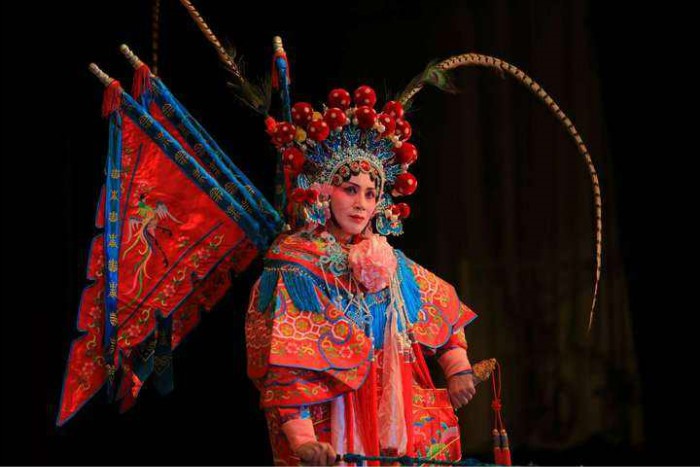 Facial painting in Beijing OperaLianpu is formed through dramatic artists' long-term practice and their understanding and judgment of the roles in plays. It is the colorful dressing on actors' faces. By using transformative and exaggerated figures, professional spectators would easily tell the characteristic of a role. In this way, it is called 'the picture of hearts'. There are certain formats of the facial painting in the aspect of color, type and shape. Usually, eyes, foreheads and cheeks are painted like wings of butterflies, swallows and bats.
Colors of Lianpu are varied with each representing a characteristic. For example, red symbolizes loyalty, such as Guanyu, a great general during Three Kingdoms Period (220-280). Black signifies honesty and frankness, such as Lord Bao, a righteous official during Northern Song Dynasty (960-1127), or abruptness and impertinence, such as Likui, an important figure in the famous Chinese ancient novel 'All Men Are Brothers'. White stands for cattiness and cunning, with Caocao as its representative, a famous politician in the late Eastern Han Dynasty (25-220).
Costumes
Costumes are an integral part of the Beijing Opera performance. That are called Xingtou or Xifu in Chinese. In the early days, opera costumes were mainly made of wool or coarse cloth; later, satin, crepe and silk were used, decorated with various meticulously embroidered patterns. The making of opera costumes is a special and unique stagecraft. The costume box first appeared in the Ming Dynasty, and was greatly improved in the Qing Dynasty.
Facebook Comments