Black tiger spring, also known as black tiger spring, is located in jinan city, shandong province south moat bank, the east side of the spring square, opposite the square. One of the four hot spring groups in jinan, and the treasure earth spring, pearl spring, wulongtan. The black tiger spring formation is composed of 10 springs including agate spring, pipa spring, bean sprout spring and spray spring. The gurgling spring flows into the moat, and the water in turn replenishes it. Surrounded by rockeries, cloisters, pavilions, trees and flowers, it is also a beautiful natural resort, with attractions open to the public for free all day.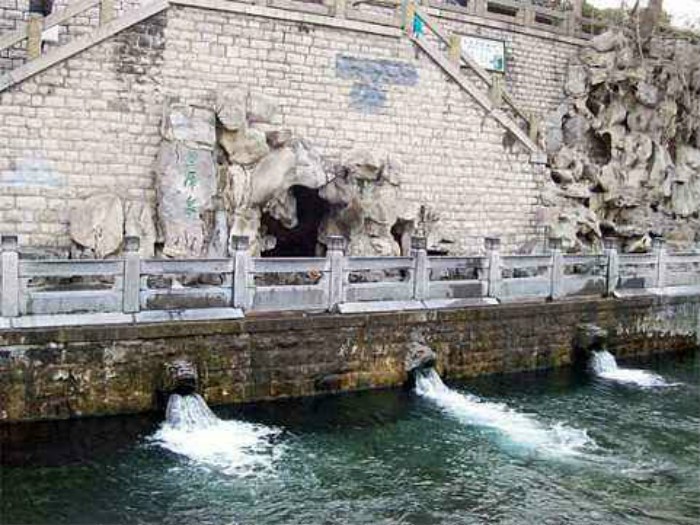 The spring came from a naturally formed cave with a large stone covered with moss. From the outside, it looks dark and dark. In addition, the water gushed from the spring, hit the stone, plus the sound of the wind blowing inside, you can hear the tiger roar, hence the name "black tiger spring".
Black tiger spring consists of two parts: the head and the pool. The head is located in a natural cave about 3 meters (9.8 feet) deep, 2 meters (6.6 feet) high and 1.7 meters (5.6 feet) wide. Bluestone piles up at the entrance. A blind hole connects the fountain head to the spring pool. After flowing from its source, the water flows through the mountain pass and into the pool through three stone tiger heads, creating waves that can reach more than a meter (3 feet) in length. The spring has a maximum spray capacity of 410,000 cubic meters (1.4 million cubic feet) per day, second only to the baotu spring.
During the Ming dynasty (1368-1644), the black tiger temple was located above a cave surrounding quantou, although the courtyard now sits in its place. The tea pavilion and terrace also provide a viewing platform for visitors to enjoy the scenery.
From the north side of the pool, you can see a lock where the water flows out and down the rocks, creating a curtain of water. It's like a waterfall. Pleasant scenery will refresh your mind and body. Sometimes, locals gather around the pond to scoop up the spring, which is also a unique sight.
Facebook Comments