The beautiful baotou hot spring park is located in the center of jinan, where you can find baotou hot spring. In the past, baotuquan was only 4 mu (about two-thirds of an acre). The park itself was founded in 1956 and has recently expanded to 158 acres (about 26 acres). It is the symbol of jinan city and one of the three tourist attractions in jinan. Baotou hot spring park is a famous tourist attraction and an ideal place to enjoy natural springs, culture and various buildings.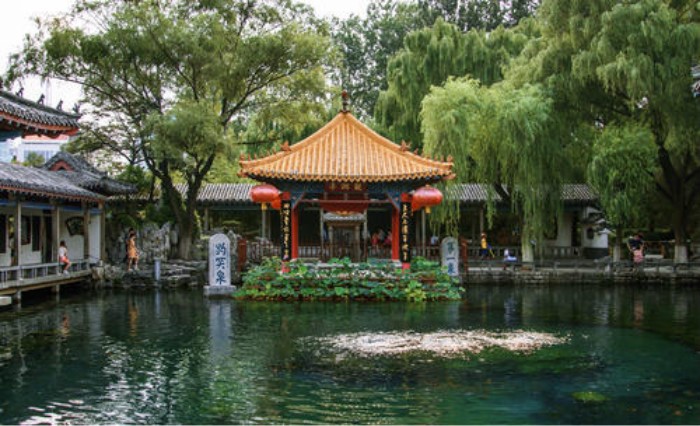 Located in the center of baotuquan park, baotuquan is the best hot spring among the 72 springs in jinan. Since ancient times, many famous poems and essays have been associated with its unique beauty. According to experts, this spring has a history of 3,543 years, dating back to the shang dynasty (16-11 BC). Ji 'nan special geographical structure created a unique soil – covered spring. The pool is rectangular, about 30 meters from east to west and about 18 meters from north to south. Water pours out of underground limestone caves day and night, sometimes reaching a peak of 240,000 cubic meters a day. When water spurts out of three outlets, the spring makes a thunderous noise and spouts water. Sometimes the water column is as high as 26.49 meters (about 86.9 feet), making it a true spectacle.
The temperature in spring remains at 18 degrees Celsius (64.4 degrees Fahrenheit) throughout the year. In the cold winter, the water mist rises and floats in the pool like clouds. The antique pavilions, colorful pictures and carvings are reflected in the clear water, creating a landscape that is almost a paradise.
Pure water, mellow taste, is the ideal choice for drinking and brewing tea. Tea tasting is the most popular leisure activity here. There is a saying that if you don't drink the spring water, your trip to jinan will be a damp squib. To the east of spring is the famous wangheting teahouse, where you can recreate the emperors of the past sitting there sipping tea, enjoying the beautiful scenery and enjoying the fun of spring.
What's more, the traditional and very popular Lantern Festival and chrysanthemum performance are also held in baotou spring park every year, which greatly highlights the cultural significance and importance of this beautiful and impressive attraction. There is no doubt that visitors will be impressed by this unforgettable place.
Facebook Comments