The Jingyuetan national forest park, 18 kilometers (10 miles) from the city center, covers an area of about 96.38 square kilometers (37.2 square miles) and wetlands about 5.3 square kilometers (2 square miles).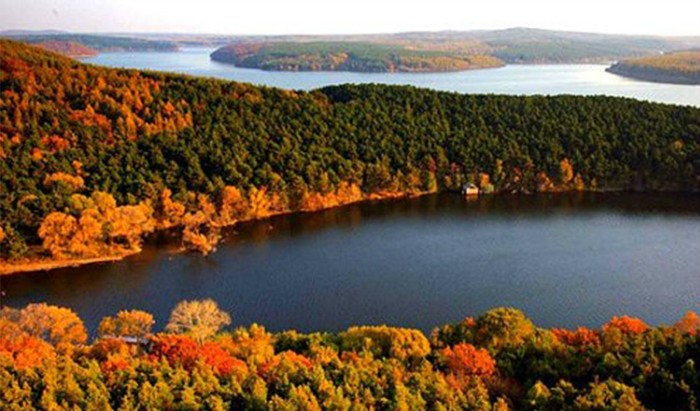 Jingyuetan is a crescent-shaped reservoir. Its height is comparable to the Sun Moon Lake in Taiwan, known as the sister lake of the Sun Moon Lake. According to a legend, a fairy from heaven happened to fall in love with a man. The fairy's mother brought her back by force. The distraught fairy left two tears and formed two lakes, one is the Sun Moon Lake, the other is the Jingyue lake. According to records, Jingyuetan was built in 1934 to supply water to Changchun.
Jingyuetan national forest park is rich in natural resources. It includes a large forest covering more than 80 square kilometers (30 square miles). There are more than 550 kinds of trees in the park, such as scotch pine, larch, red pine, Japanese red pine, spruce, fir, birch, Mongolian oak and northeast walnut. In addition, there are a variety of birds, wild animals and insects, such as pheasants, wild ducks, squirrels, hedgehogs, roe deer and foxes.
Characteristics of Jingyuetan national forest park forest bath, Jingyue wetland, the Siberian tiger garden, Guantan mountain, green pine ridge, Jingyue statue, lotus and willow garden, Bisong Jingyue tower, the peace tower, boardwalk, tomb of the jin dynasty (1115-1234) in the shiyang, tiger hill, Jingyuetan reservoir, Vasaloppet museum, beach king bridge, north of mount putuo temple and snow sculpture garden as its main attractions. For sports enthusiasts, the park has golf courses and ski slopes.
As the main attraction of the Jingyuetan national forest park, the forest bath is famous for its natural oxygen bar. The area has 400 times more negative oxygen ions than the city. Negative oxygen ions play an important role in metabolism and immunity. You can go there for fresh air, picnics and even camping.
Located between Xiliu bridge and riverside bridge, Jingyue wetland consists of wetland, overflow dam, garden and slide. The wetland is home to trees, shrubs, reeds, willows, herbs and perennial flowers. It is a nesting site for rare birds such as wild ducks, red ducks and swan geese.
In addition, Jingyuetan national forest park is the main venue for the Changchun ice and snow festival. During the festival, visitors can enjoy snow sculptures at the clear moon snow world and ski at the clear moon ski resort.
Facebook Comments