The dragon tower, the second tallest steel tower in the world and the tallest in Asia, features tourism, catering, entertainment, advertising and wireless communications in addition to radio and television signals. Since its opening in 2000, it has become one of the top ten scenic spots in Harbin and one of the most worthwhile tourist attractions in heilongjiang province.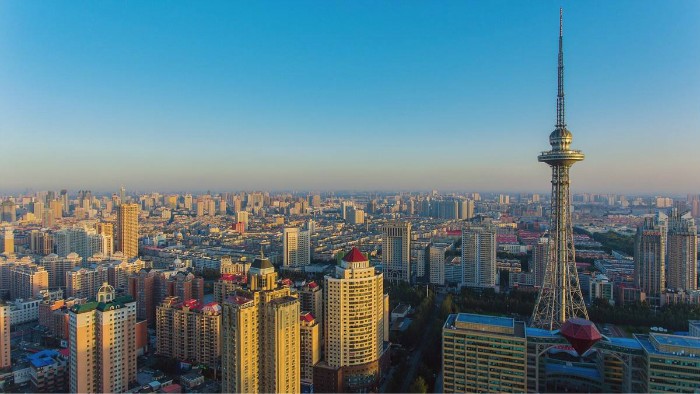 The long tower is composed of the tower body, the middle part of the tower body, the upper part of the tower body and the antenna on the top of the tower. From the first floor to the fourth floor, it has a spherical top. The section of the tower body is octahedral and the longitudinal part is parabolic. Elevators at 2.5 meters per second can reach all floors of the tower. The tower is 181 meters (594 feet) tall and 206 meters (676 feet) tall, with a steel ball and a flying saucer-shaped structure on top. The antennas are arranged between 220.5 m (723 ft) and 336 m (1102 ft). Dragon tower design is unique, tourism resources are very rich.
The 181-meter (594-foot) observation deck boasts the world's longest clear glass skywalk, with a perimeter of more than 60 meters, giving visitors a great view of the area beneath the tower. The carrying capacity of this glass is 1000 kg per square metre. Covering 1,256 square meters (1,502 square yards) and seating 350 people at a time, the 186-meter (610-foot) high revolving restaurant in the sky is the world's tallest restaurant in the sky. While enjoying the buffet, you can see the charming night view of the city from all angles.
The 190 meter (623 ft) outdoor viewing platform allows visitors to overlook the cityscape. Adventurous visitors can also try the game of the brave, where challengers wear seat belts and walk on the edge of the circular platform outside the guardrail. The butterfly gallery also displays more than 2000 famous and precious butterfly specimens at home and abroad. The 206-meter (676-foot) high blessing pavilion is the tallest, with more than 100 characters in calligraphy. Visitors can enjoy the magnificent cityscape while drinking tea in the teahouse.
The exhibition hall of dwellings in northeast China shows the structure of houses and the appliances of the past, such as kangs (beds), window paper and kerosene lamps, allowing visitors to experience the local customs. Hanging out on China's tallest swing outside the dragon tower, 210 meters (689 feet) high, is an exciting adventure.
Facebook Comments