The culture of filial piety has permeated and flowed through every aspect of Chinese social life. Many places are famous for "filial piety", filial sons will be respected by the whole society. Dong yong is one of the famous "twenty-four filial piety" in ancient China. The story of his "filial piety, family poverty, death of his father, selling his body to borrow money and being buried" moved heaven and earth. However, the western filial piety culture is far from so developed, not only there is no place known for "filial piety", there is no place proud of "filial piety", there is no "twenty-four filial piety" such famous people. There are many proverbs about "filial piety" in China, such as "filial piety is the first of all virtues; filial piety should be done in a timely manner", "filial piety to parents-in-law and their own blessings, and diligent planting of heaven and earth and their own valley", "filial piety at home is better than burning incense far away", "there are three unfilial, no later is greater" and so on. However, in the west, there are very few proverbs in this respect. Among the proverbs included in the dictionary of applied English proverbs with an english-chinese double interpretation, there is none.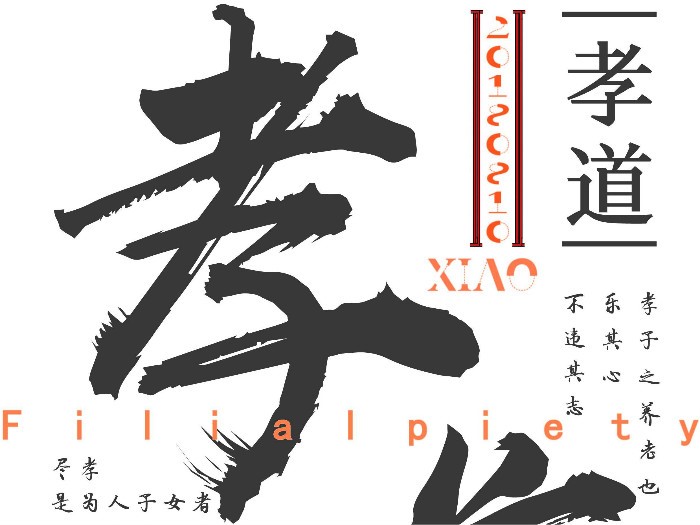 The culture of filial piety in China has dual meaning, that is, family meaning and social meaning. "Filial piety" in the family is mainly reflected in the behavior and attitude of children to their parents. In the traditional Chinese culture of filial piety, parents are the absolute authority in the family, and obedience to parents is regarded as a manifestation of filial piety. Confucius thought: "the matter parents a few admonition, see different ambition, but respect not violate, but not complain." That is, when children serve their parents, they should gently remonstrate with their parents about their faults. If their own opinions are not accepted, they should remain respectful, not get angry, and not offend them. Even though they feel depressed, they should not complain. The social significance of "filial piety" is to maintain a kind of social harmony, that is, the reverence for elders and the ruling order and the reverence based obedience. In the west, "filial piety" is not mainly reflected in the behavior of children towards their parents, but more in the religious culture. The western culture of filial piety also has little social significance, while its family significance only shows respect for parents. This respect did not lead to obedience to parents, but more emphasis on independence and equality among family members.
The traditional mode of providing for the aged has greatly enriched the culture of filial piety in China. In China, for thousands of years, the duty of supporting was mainly done by children. However, in the west, it is not emphasized that children have the duty to support the elderly. When their parents grow old, the duty to support them mainly depends on the state through the social security system. Therefore, the culture of filial piety in China contains the obligation to support, while the culture of filial piety in the west does not. In China, the duty to support is like "feedback" in nature. In the west, the duty to support is "passed on" to the children or parents themselves.
The Chinese people have a strong sense of family, and parents give the most to their children, which is beyond the imagination of westerners. In the west, once you reach adulthood, you can earn your own living without too much effort from your parents. Chinese people usually live close to their parents, even if they work in other places, they usually bring their parents to them. Confucius thought: "parents, do not travel far, travel must have a way." Confucius did not approve of sons traveling far away from home when their parents were still alive. Confucius was afraid that his son would travel far away and the old man would not be taken care of. Westerners usually don't do that. They don't think too much about their parents for their career. They don't have to think about them. Moreover, unlike Chinese people, westerners do not have a deep attachment to their homeland. On the contrary, they like to change their residence constantly, especially americans, who usually move several times in their lifetime. This difference in the mutual contribution of parents and children partly explains the differences in property inheritance between China and the west. In China, there is no doubt that the parents' property is inherited by the children, no written proof is required, and the children take it for granted. Westerners, on the other hand, decide the ownership of property through wills. They can give their property to any person or institution they want, even to their pets, without their children finding it unacceptable.
Facebook Comments