China's premier shopping street, 5.5km (3.4-mile) Nanjing road, stretches from the bund in the east to the intersection of jing 'an temple and xi yan 'an street in the west. Today, it is a must-see metropolitan destination, attracting thousands of fashion-conscious shoppers from around the world.
Nanjing road, a century-old street in Shanghai's huangpu district, bears witness to the city's history. Over time, it has been reorganized and has undergone significant changes. Large traditional stores no longer dominate the market, as modern shopping malls, specialty stores, theaters and international hotels have sprung up along the streets. To facilitate shopping, there is an all-weather pedestrian playground in the eastern district.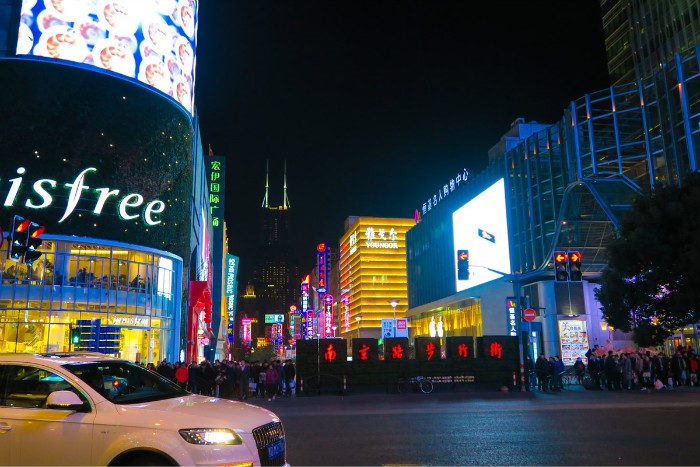 There are more than 600 shops on the road, offering countless famous products of high quality and fashionable style. Upscale stores include tiffany, montblanc, omega and dunhill. About 100 traditional shops and specialty stores offer fine silk, jade, embroidery, wool and clocks. People who like to shop will indulge in the pleasure of shopping.
There are many traditional food stores with a history of 100 years in Nanjing road. Here, you can not only taste the most authentic Shanghai cuisine, but also buy some for your friends and family as gifts.
It was an unforgettable experience taking the old dangdang tram from 8:30 to 22:00 every day. On the slow train, you can see all kinds of shops outside the window, old or new, leaving your view one by one, just like history. The one-way trip will take about 10 minutes and you will have to pay 5 RMB for it.
Flashing neon lights illuminate the magnificent buildings and illuminate the night sky of this vibrant city. Outdoor bars, abstract sculptures and the long music of street musicians make the evening stroll more enjoyable.
Nanjing road in Shanghai consists of east Nanjing road and west Nanjing road, with xizang road in the middle. Nanjing east road is relatively busy because of its proximity to the bund, a Shanghai landmark. Visitors can choose to walk along the whole road or choose a portion of it according to physical strength and time.
Facebook Comments