The Giant Wild Goose Pagoda was built more than 1300 years ago. The pagoda is rich in buddhist culture, famous figures with a long history and brilliant architectural art. Now, it is both the landmark of xi 'an city and an important place to receive foreign leaders and friends.
In 652, Xuanzang brought back valuable buddhist scriptures and other cultural relics from India along the silk road and translated them here. Since then, the big wild goose pagoda has become one of the three translation sites of buddhist scriptures in ancient China. In order to better preserve these precious buddhist cultures, the tower was built with five floors. According to historical records, the Giant Wild Goose Pagoda has been rebuilt for many times, and finally reached 7 stories, about 65 meters high.
The Giant Wild Goose Pagoda is a landmark of xi 'an. Whenever you come to xi 'an, you should put it on your list.
The body is the main part of the pagoda. Walk from the gate to the top of the pagoda to enjoy the special cultural relics and feel the rich buddhist atmosphere. From the history, characters and stories of the tang dynasty to the brief introduction of Xuanzang's life after entering the south gate. Climbing high, you can see a series of Buddha statues, paintings, thousand-year famous poems, rare poems by Xuanzang and so on. More importantly, the pagoda's treasure is a gilded bronze statue of Buddha, the founder of Buddhism. Because of its sacred culture, tourists flock to the second floor to see the statue with reverence. You can climb up to the top 7th floor and have a full view of this ancient city. It feels like being in the ancient Tang dynasty with crispy chimes and curling incense, and it also seems a Buddhist fairyland with the multiple Buddha statue and other precious relics.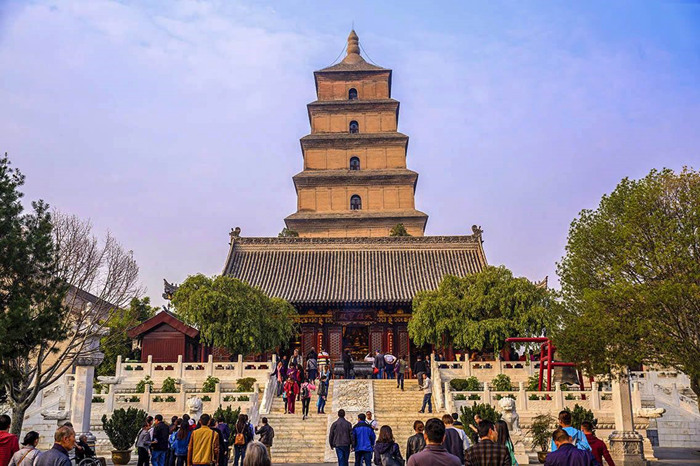 Facebook Comments