As its name implies, the two most important ingredients of oil tea are oil and tea. Oil tea is prepared by frying tealeaves with garlic, salt, ginger, chili, and possibly other ingredients in an iron wok.
Oil is added to fry the ingredients, and the mixture is pounded with a hammer-like wooden pestle to release the flavor. Water is added and boiled for a while with the mixture, till the broth (oil tea) is ready and poured through a wickerwork sieve (or tea strainer).
In oil tea shops, oil tea is drunk hot in a small kettle or thermos, along with bowls, salt and plates of Fried rice, scallions, coriander and crispy peanuts. Just like breakfast cereal in the west, when preparing the oil tea, put the contents of the plate and bowl (depending on your taste) into the bowl, add the hot oil tea, and stir. The taste of the oil tea is unique and strong: a little bitter at first, but after absorbing the sweet taste of the puffed rice, it becomes less bitter and even a little sweet.
Very few people drink it themselves – they usually order a variety of Fried dishes, cold dishes and snacks to make it a breakfast or meal. Fried food includes Fried vegetables, Fried rice, Fried noodles, Fried potato chips and so on. Cold dishes are usually black fungus, potato chips, peanuts, fern root noodles, pickled radish slices or seaweed slices, topped with hot sauce. The selection of snacks is varied, such as small pumpkin cakes, steamed buns and various flavors of baba (glutinous rice cake mashed, usually with stuffing).
Hot pot is one of the most popular Chinese dishes. Oil tea can be used to make soups, giving hot pot a unique flavor. Oil tea hot pot is usually made with light fish or chicken.
People with sleep problems are advised not to drink oil tea with dinner, as the caffeine in oil tea may keep you awake.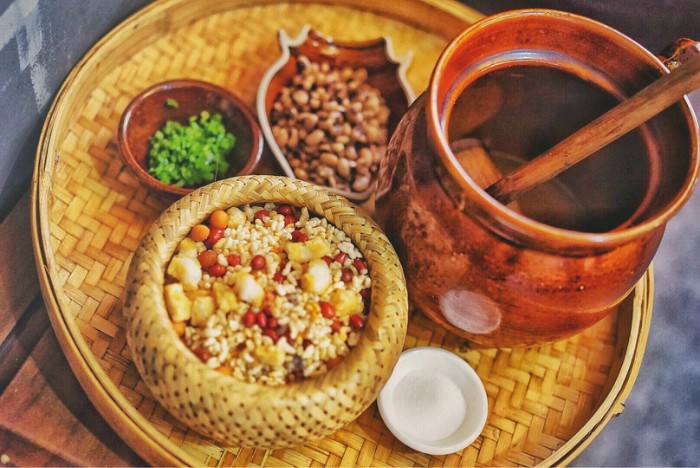 Facebook Comments