Ordinary rice noodles are white and taste soft and smooth.Rice noodles, gravy, Fried peanuts or soya beans, scallions and slices of meat are just some of the versions that rice noodle chefs add to this famous delicacy on the food counter. You can also add marinated eggs.
Whatever the rice noodle version, the gravy is the cream of the crop. The gravy is simmered for a few hours, with ingredients and spices such as tangerine peel, cinnamon and ginger. There is no standard recipe for gravy, so every noodle shop may have its own secret recipe, hoping to make them stand out from the rest.
The chopped condiments, which are usually left on separate tables for customers to add themselves, include scallions, peppers, beans and shredded daikon.
There are rice noodle shops all over the streets of guilin. Different from other local rice noodle shops, some in guilin have to buy tickets first and then take the noodles, and some have to pay at the same time. Price is priced by two, one or two meter noodles 3.5 yuan, two or two 4 yuan, three or two 5 yuan, generally by analogy, if the vegetable powder is the corresponding minus 5 yuan. When taking the powder, tell the cook whether to buy the brine powder or the soup powder. Most of them are bought. Occasionally, someone will buy the brisket powder, lettuce powder and horsemeat rice noodles.
When buying rice noodles, the cook will put the powder into a slotted spoon, then dip it into the hot water and stir it with chopsticks. When the rice noodles are hot, they will be immediately put into an enamel bowl marked "guilin tableware disinfection center". After the next step, the guest can collect the rice noodles, put the ingredients and soup (usually made by pig bones) on the table with the spring onion and pepper, and take the chopsticks to find a seat in the store to eat. But the authentic guilin rice noodles are not to put the soup first, after eating a bowl of soup slowly enjoy.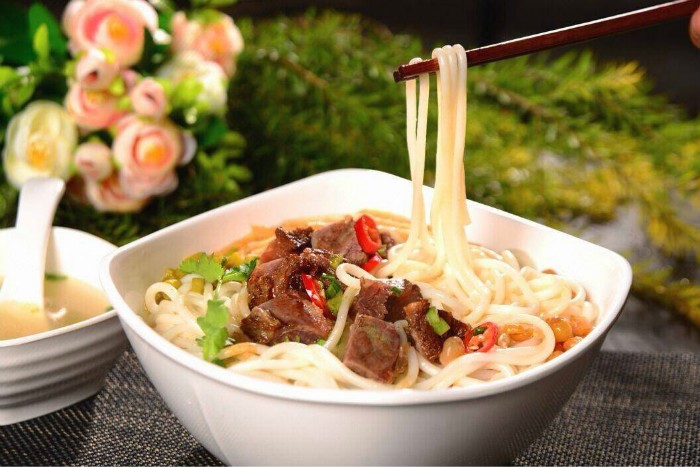 Facebook Comments