Rice Cooked in Bamboo Tubes, also called Bamboo Rice or Fragrant Bamboo Rice, is a type of roasted food consisting of rice and some spices, contained in a bamboo tube. Generally speaking, it is made by people who live in the mountains. Its main ingredients are rice and meat, which are put into a fresh bamboo joint with enough water, sealed with banana leaves, and then roasted over charcoal until the bamboo turns black.
Originally, the food was made by some ethnic minorities, such as the dai, hani, lahu, bulang, jinuo and jingpo. Due to its unique flavor, bamboo rice is very popular among other ethnic groups, especially the zhuang and yao ethnic groups in guangxi. You can find it easily at many food stalls in these areas.
Bamboo rice has a special smell. Fragrant bamboo, the scientific name "fragrant bamboo", generally has the size of a wine glass, 40 cm long; Bamboo rice is the best choice for making bamboo rice, especially when it is tender and fresh. The tender taste of the rice can be preserved for 10 hours, whether hot or cold.
How to Do Homemade Bamboo Rice
1.Cut the bamboo into a 25-centimeter-long and 6-centimeter-wide bamboo joint, and drill a small hole at one end of it.
2.Wash the rice and soak it for 30 minutes, mince the bacon and pickles into pieces, put them in a bowl and mix.
3.Add some oil, salt and spices to season the mixed rice.
4.Stuff all of these prepared ingredients into the bamboo joint through the hole, and add 100 ml water.
5.Seal the hole with a strip of clean cloth. Bake the bamboo and control the heat properly: high heat for 15 minutes, mid heat for 5 minutes, low heat for 3 minutes.
6.When the mouthwatering bamboo rice is done, cut it into 2-4 pieces and share.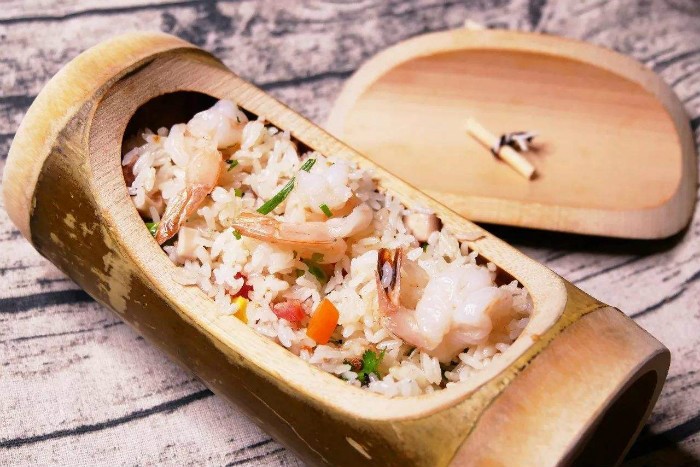 Facebook Comments