If you are looking for a winter adventure, Harbin Ice and Snow Festival is the best place for you.
Harbin the Ice City in China, belongs to one of the best winter getaways for world friends globally famous for its spectacular annual World Ice and Snow Festival gala during winter. Firstly established in 1985, the Harbin Ice and Snow Festival is one of the Four Great International Ice and Snow Festivals in the World. Compared with other three festivals (Sapporo Snow Festival in Japan, Quebec Winter Carnival in Canada, Olso Helmenkollen Ski Festival in Norway), it is more scenic and cultural.
The fabulous Ice Lantern Festival is the forerunner of the Harbin Ice Festival and is still the best loved part of the overall event in the opinion of all who go to that city each year. The festival is not only the annual important festival for local people, but also the carnival for winter holiday lovers from all over the world. During the festival, a large number of artistic sculptures made by snow and ice will be exhibited in different venues, as the biggest highlight of the festival. Besides, many interesting activities and events will be organized, such as Ice Sculpture Competition, Ice Hockey, Skiing, Skating, Winter Photography, etc. Each Harbin Ice and Snow have a spectacular theme, such as "Pearl on the Crown of Ice & Snow","Ice Silk Road and Snow China" and"Holy Land of Snow Kingdom and Sightseeing from Ice Heaven"
With irresistible charm, Harbin easily attracts millions of travelers to join in the grand winter event to appreciate thousands of spectacular artistic sculpture of ice and snow and be immersed into such an amazing fairy tale world, which held from December to the next February or March every year. Besides, Harbin is a mysterious city where houses rich clusters of Russian and Western styles architectural treasures to tell its history, which is blended perfectly with its authentic bold and unconstrained quality as a northeastern Chinese city, and finally to be the Chinese and exotic Harbin you can see nowadays!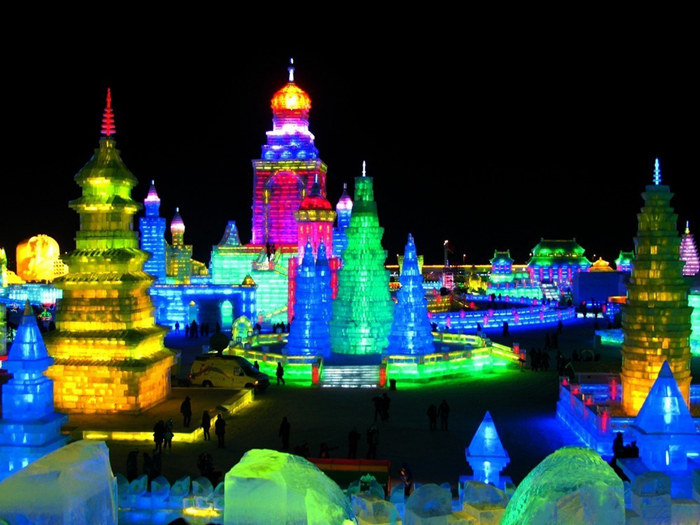 An Annual Cultural Event for International Exchange
Today, Harbin Ice and Snow Festival is not only an exposition of ice and snow art, but also an annual cultural event for international exchange.
Every year, many experts, artists and enthusiasts from the United States, Canada, Japan, Singapore, Russia, China and other countries gather in this city to participate in the ice sculpture competition and communicate with each other in the ice and snow world. In addition, Harbin ice lanterns have been exhibited in most major cities in China and many countries in Asia, Europe, North America, Africa and Oceania. For more than 40 years, the city's natural resources of snow and ice have been fully exploited, providing tourists with joy and fun. Now during the festival, many sports competitions are also popular, including skating, skiing and so on. Weddings, parties and other entertainments are now a feature of the frozen world, adding their own contributions to the celebration of this great festival of art, culture, sport and tourism.
Main Attractions
Ice and Snow World
Ice and Snow world is the main venue of the Harbin Ice and Snow festival. It is the largest ice and snow amusement park in the world, covering 600,000 square meters. It came into being in 1999 and is one of the world's largest ice architecture parks. More than 2,000 ice sculptures will be on display. It is recommended that you visit this place in the late afternoon, when the lights are turned on, you will see a vivid and colorful world composed of castles, streets, walls, towers and so on. Some of the buildings are three stories high and have very complex designs. Walking among the bright and dazzling ice towers is really exciting and unforgettable!
You can stay in the ice world for 3-4 hours or even a whole day, but pay attention to keeping warm, the cold temperatures in Harbin in winter may cause colds.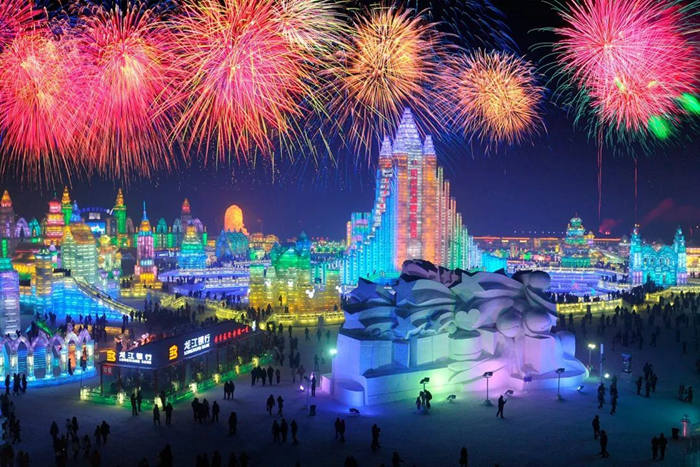 Sun Island
Sun Island is a fascinating place with crystal lakes, exquisite rockery, beautiful flowers and exotic architecture. However, during the Harbin Ice and Snow festival, it becomes another major venue to show you the most famous snow sculptures, which are large in size and related to culture. It has the world's largest indoor ice and snow art museum and it opens to the public from November every year. On the pure white ground, numerous excellent sculptures stand out from the snow, such as iconic ancient buildings, characters, cartoon characters, scenery and so on, just to make you excited moment praise and photography. Besides, you will find many interesting winter sports there, including skating, sliding and so on. We suggest you visit in the morning.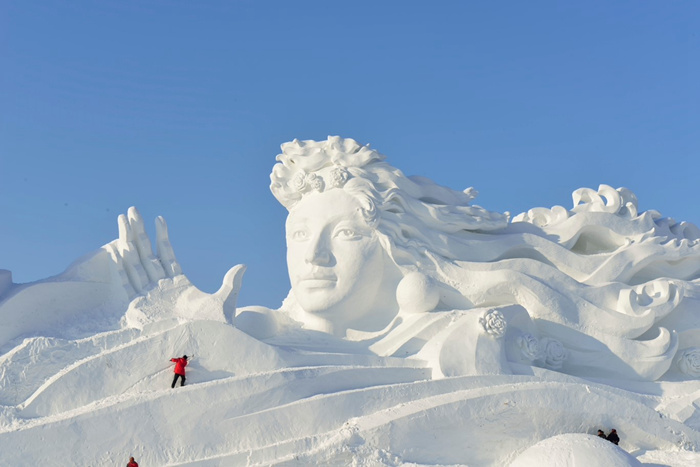 Zhaolin Park
Zhaolin park has been hosting ice lantern parties since 1963. Visitors will be amazed by the huge sea of ice lanterns. More than 1,500 ice works are on display, making for a wonderful holiday land for family and friends. This place brings a richer atmosphere to the party, making people feel the local culture and Chinese tradition. In addition to large carved pagodas, animals, pavilions, scenic spots and so on, you can also let your companions join in the entertainment project, so that your body gets entertainment and warmth.
In the daytime, the ice sculptures are magnificent and verisimilitude. Moreover, with the interspersion of the sparkling colored lights embedded in the sculptures at night, the park becomes a glorious and amazing ice world.
Facebook Comments