Lingshan Buddha, one of the symbols of Wuxi, is located on the north bank of Taihu lake. The Lingshan giant Buddha scenic spot, named "little lingshan", is the contribution made by xuanzang, a famous Chinese buddhist monk, to the exchanges between China and India in the early tang dynasty. The bronze statue of Aakyamuni was built in Lingshan in 1997. It is 88 meters high and imposing. Surrounded by three mountains and facing the taihu lake, the great Buddha smiled, observed everything and protected his people.
In fact, the Lingshan giant Buddha is the world's tallest bronze Sakyamuni Buddha, 17 meters taller than the Leshan giant Buddha in Sichuan province. Lingshan Grand Buddha's construction was host by Zhao Puchu, the former chairman of the Buddhist Association of China. His inspiring idea "Five Great Buddhas in Five Orientation of China" has made great influence on the development of Chinese Buddhism. Now, you can see Wuxi Lingshan Grand Buddha in the east of China, Hong Kong Tian Tan Buddha in the south of China, Leshan Giant Buddha in the west of China, Yungang Grand Buddha in the north of China and Longmen Grand Buddha in the center of China.
Travelers can enjoy the real scene "Nine Dragon Bathing Shakyamuni" which is not only existed in the legendary story. As buddhist music played, six lotus flowers bloomed, and the seven-point-two meter high golden Buddha pointed with one hand to the sky and the other to the ground. The water in Kowloon lake is 10 meters high and can be used to bathe the Buddha. Sometimes, weather permitting, you can even see a rainbow on the water. Visitors can even taste the holy water flowing from the phoenix's mouth standing around the fountain. Holy water is said to bring you good luck and health.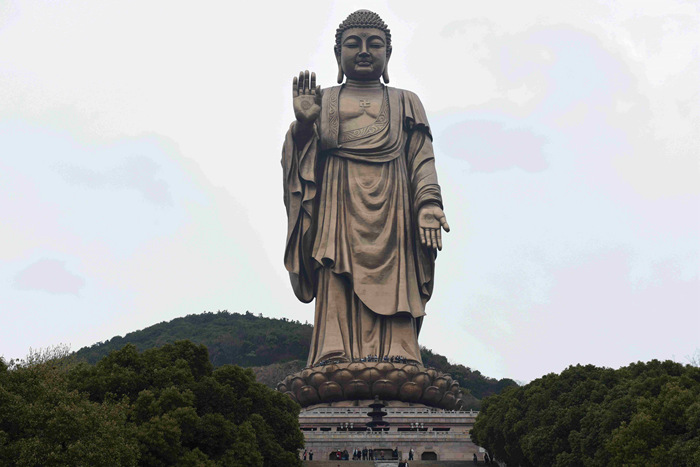 Facebook Comments