Hoh Xil means "beautiful girl" in Mongolian. Hoh Xil nature reserve is one of the largest, highest and richest nature reserves in China. It is also one of the best preserved nature reserves in the world. In the nature reserve, snow mountains, grasslands, clear lakes and reflections of white clouds, as well as herds of wildlife, make for an amazing landscape.
The Hoh Xil nature reserve is located in yushu Tibetan autonomous prefecture, about 200 kilometers (125 miles) west of golmu city in Qinghai's haixi Tibetan autonomous prefecture, bordering the xinjiang uygur autonomous region and the Tibet autonomous region. The total area of the reserve is approximately 11,120,000 acres. The reserve was listed as a world natural heritage site in 2017.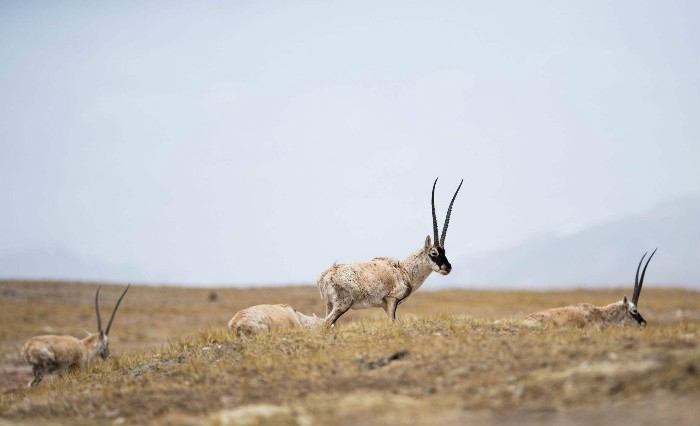 The Hoh Xil national nature reserve is about 16,404 feet above sea level and has an alpine climate. Affected by strong west winds throughout the year, due to lack of water and oxygen, the climate is dry and cold, not suitable for human habitation. In the absence of humans, cocoa's original state was preserved. The reserve boasts exceptionally beautiful landscapes, including valleys, glaciers, ice mounds, stone forests and boiling springs. Rolling hills and plains give a wide view.
In addition, rivers of all sizes run through almost the entire reserve. There are 107 lakes, covering more than 247 acres, and more than 7,000 smaller lakes. Of all the lakes, ulan lake, covering more than 130,000 acres, is the largest and fourth largest in Qinghai province. The reserve is rich in wildlife species, most of which are endemic to the Qinghai-Tibet plateau. It has more than 230 species of wild animals and 202 species of plants.
A large number of wild yaks, Tibetan antelopes, wild donkeys, white-liaked deer and brown bears are native to the Qinghai-tibet plateau, constituting a unique natural landscape. The Tibetan antelope is especially rare and protected by the state. If you're lucky, you might see herds of antelope running in graceful poses. You can also learn more about the life of the rare wildlife on the plateau.
Facebook Comments