Wangfujing snack street
Wangfujing snack street is a garden of famous local snacks in Beijing and all over the world. It is located in the south of friends world shopping mall in wangfujing street. There are more than 100 shops and stalls in the street.
Wangfujing snack street covers an area of more than 2000 square meters, with more than 1000 square meters of buildings. Represents local eating habits, customs and customs. There are also stages, sometimes performing the acrobatics show, and Beijing opera, which highlight the traditional Chinese culture.
From the entrance of Wangfujing food street, that can be quickly order various takeouts and eat along the street, such as barbecue kebabs, sugar coated gourds, tea soup, pancakes and fruits, etc. Sometimes, you can even find some scary-looking insects kebabs, and deep fried scorpions here. You can buy snacks not only from Beijing, but also from other parts of China and snacks from other countries, like an Islamic styled Turkish barbecue stand.
Qianmen street
Qianmen street is a very famous commercial street in Beijing. Located in the central axis of the capital, north from qianmen moon bay, south to tianqiao intersection, connected with tianqiao south street. In the 29th year of jiajing in Ming dynasty (1550), it was the imperial road for the emperor to go out to the temple of heaven and the altar of mountains and rivers before the city was built. People commonly known as qianmen street. The street is 845 meters long and the traffic lanes are 20 meters wide. Ming, qing to the republic of China are called zhengyangmen street. In 1965, it was officially named qianmen street.
There are many time-honored restaurants in Qianmen Pedestrian Street and the surrounding hutongs, such as Quanjude, BianyiFang, Donglaishun, Liubiju, etc.
Longfu temple street
Longfusi street was formed on the basis of the temple fairs in old Beijing and has become one of the commercial shopping centers in the capital. The main street is paved with dark gray stone, starting from dongsi north street in the east and ending with east street of art museum in the west. The length is 632 meters and the width is 7 meters. Street west business traditional snacks, clothing, tourism goods.
The center is longfu building and longfu square, with recreational function. In the east, there are all kinds of specialty shops to concentrate the boutique culture of the commercial street, which makes longfu temple integrate the modern consciousness in the tradition. Here you can buy a variety of local products, you can eat a variety of Beijing local snacks, you can see the Beijing folk opera. There is also one thing we have to mention, which is that longfusi street is probably the densest street of cinemas in Beijing.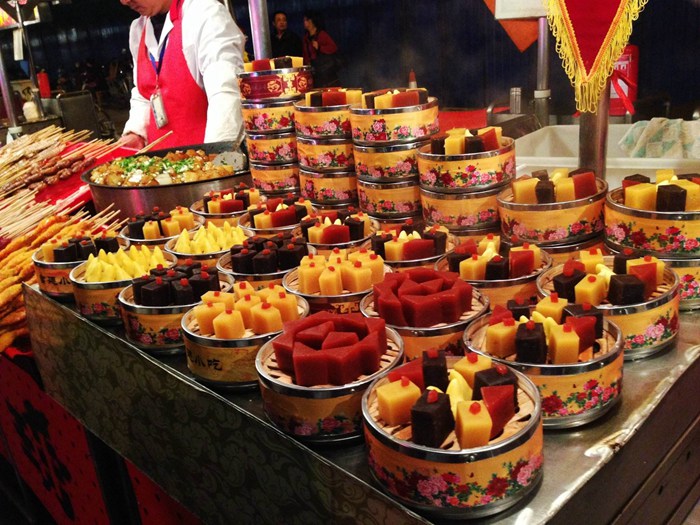 Facebook Comments