Hongya Cave has a history of over 2,300 years. It was a military fortress from the ancient Ba State (1046 B.C. – 256 B.C) to the Ming and Qing Dynasties (1368 – 1911), and was also the site of the earliest and most developed pier of ancient China. The site now houses a large-scale stilt house complex built alongside a steep cliff on the bank of Jialing River. It has become a popular destination for visitors to experience Bayu culture – a Chinese ethnic culture, gaze over the river, and taste delicious food. The stunning night view is a highlight and should not be missed.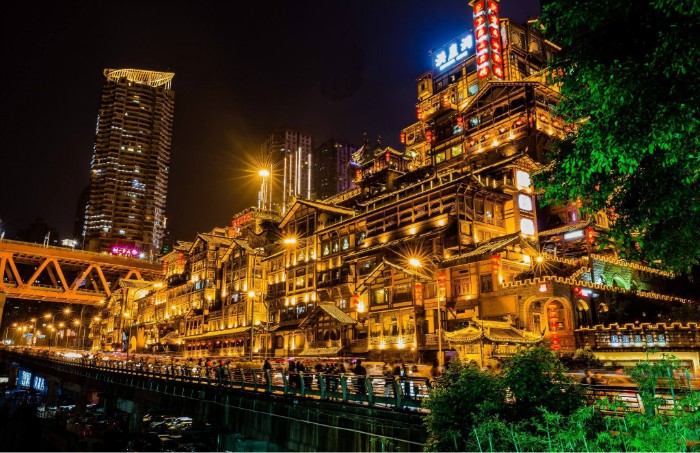 Hongyadong is an 11-storey, 75 meters (245 feet) stilt house abutting a steep cliff. It is popular with tourists because it has a similar appearance to a building in Spirited Away – a masterpiece of a famous Japanese cartoonist, Hayao Miyazaki. It is incredible that the 1st floor and the 11th floor are accessible by two different roads. Visitors can take an elevator to each level where various bars, café and restaurants are arranged. Visitors can also see the symbolic Hongya Dripping on the 2nd floor, which is a small waterfall cascading down the cliff-face. It is regarded as one of the 12 Bayu Sites.
Red cliff hole night scene is a highlight of chongqing, but also a feature of chongqing. At dusk, warm lights illuminate the stilted building. Combined with its reflection on the water, the shimmering complex floats like a dreamy pavilion amid the towering skyscrapers surrounding it. Visitors can view the amazing night view from different angles. In Exotic Balcony Street, visitors can buy exotic garnitures and handiwork and also have coffee and hamburgers there. There is also a ship-like pirate-theme bar with half of a ship's hull suspended from the ceiling. As well, visitors can overlook the stilt house and Jialing River from the balcony.
Facebook Comments