Huangjiu, also known as Chinese yellow wine, has a history of more than 2,500 years and is one of the oldest wines in the world. It originated in China and is sold only in China. Fermented from rice, millet and other grains, it contains proteins, amino acids, polyphenols, glutathione and other nutrients, which can remove free radicals, prevent cardiovascular diseases, promote blood circulation and protect the heart. Because yellow rice wine is not distilled, so the alcohol content is not high, generally 14% – 20%, soft and slightly sour taste, sweet, there are stimulating, umami, astringency and bitter taste. Nowadays, shaoxing wine is widely produced and has a wide variety of varieties, the most famous of which is shaoxing wine.
Most Huangjiu is yellow or brown, which is why it is called yellow wine. In the traditional brewing process, the high temperature will make the color of the raw materials darker, and the later fermentation process will color the wine.
But not all rice wine is yellow or brown, because the brewing process is different. The color of the wine can be adjusted by controlling the temperature and time during the boiling process. For example, xi 'an's choujiu, also a yellow rice wine, is milky white.
Types of Chinese Yellow Wine
After thousands of years' development, there are many types of Huangjiu.
By the production place: It can be categorized as Daizhou, Shaoxing, Jinhua, Danyang, Shandong Lanling Yellow Wine and so on.
By making materials: It also can be classified by the making materials, such as glutinous rice Yellow Wine, black rice wine, corn wine, barley wine, etc.
By sugar content: It can be categorized as Dry, Half-dry, Half-sweet and Sweet Yellow Wine, one sweeter than the previous.
By distiller's yeast: It can also be categorized as wheat yeast and rice yeast Yellow Wine.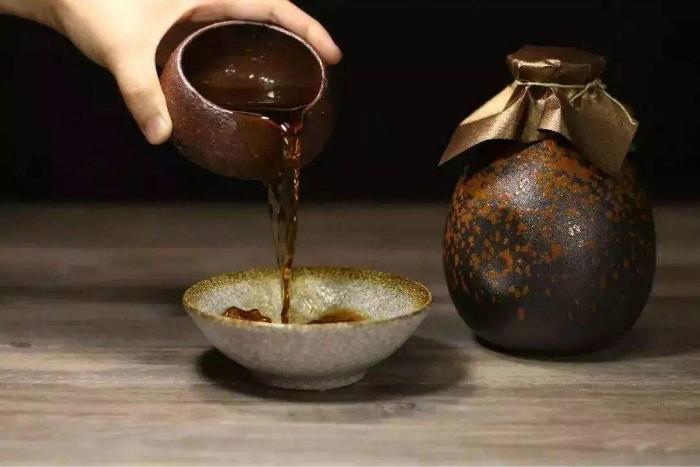 Facebook Comments