The Harbin ice lantern garden fair is the world's oldest and largest open-air ice lantern art exhibition, with an exhibition area of 6.5 hectares (about 16 acres) and an ice volume of about 2,000 cubic meters (about 71,000 cubic feet). It is listed by the national tourism administration as one of the country's 35 "great beauty spots". The festival began in 1963 and has been held every winter since then at zhaolin park, where some 1,500 traditional ice lanterns are displayed. It is considered the beautiful name card of Harbin.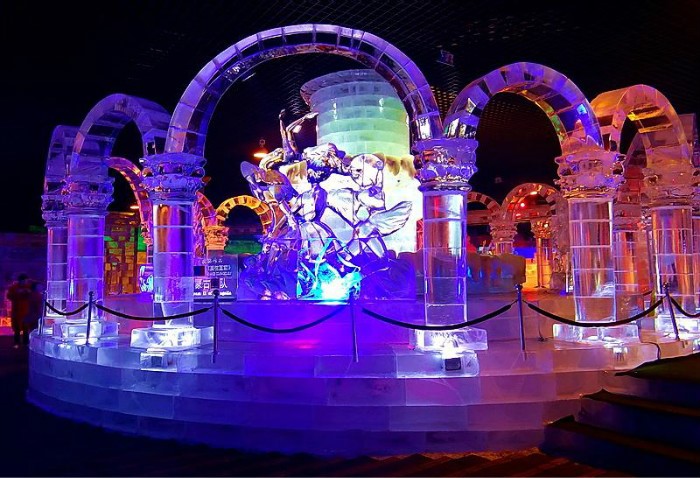 The ice lantern garden is an outstanding achievement of the local people in exploiting and utilizing the local ice and snow resources. Craftsmen in that city used the ice of the songhua river to create various forms of ice sculptures. All the works of art present a grand verve and charm.
Inspired by ancient Chinese ice lanterns, artisans at the ice lantern fair have created works of art that transcend nature. Legend has it that once upon a time, when winter nights came, a few people would leisurely dress up or fish on the songnen plain, which is located in the northeastern provinces including Harbin. They used old ice lanterns for lighting. At that time, the technique was simple. The water from the songhua river was put into a wooden bucket and frozen into icicles. Then a hole was made in the center of the icicle and an oil lamp was put in. Hence the ice lanterns. It helped a lot of people live at that time. Later, when the Chinese New Year and Lantern Festival came, people liked to decorate these ice lanterns to celebrate the festivals.
Now, it has evolved into a local traditional festival. The Harbin ice and snow festival is held every year on January 5. Throughout the festival and the ice lantern garden party, visitors can participate in international sports such as: sitting on an ice boat, hitting a top on the frozen river, attending weddings on ice, skating on ice and watching winter swimming competitions. When night falls, you will attend the Harbin ice and snow festival party. You can see wonderful performances there, and you can also take part in them. That would be great!
Today, ice lanterns are a source of local pride. The art of making ice lanterns has matured. This is a unique ice and snow art exhibition integrating horticulture, architecture, sculpture, drama, Chinese painting, Chinese literature, Chinese music and other disciplines. At the same time, using modern optical, mechanical, acoustic and other science and technology, to show us the colorful, beautifully carved ice lanterns. Ice art works include ice architecture, ice sculptures, ice waterfalls, ice flower beds, ice slides, ice Chinese calligraphy, ice scenes, ice advertisements and, of course, ice lanterns. Various works of art are randomly scattered around the ice lantern garden party, creating a perfect world of ice and snow.
Facebook Comments