Affectionately known as the "bird's nest", the national stadium is located in the Olympic village, chaoyang district, Beijing. It was designed to be the main stadium for the 2008 Beijing Olympics. Athletics, football, croquet, weightlifting and the discus are all held there. It has been open as a tourist attraction since the games ended in October 2008. Now, it is the center of international and national sports competitions and recreational activities. In 2022, the opening and closing ceremonies of the winter Olympics, another major sporting event, will be held here.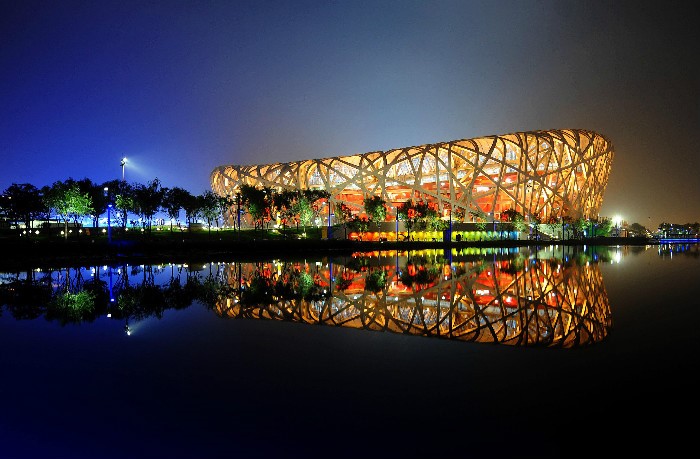 The design of this large stadium was accomplished together by Swiss architects Jacques Herzog and Pierre de Meuron and Chinese architect Li Xinggang and the others. The designers didn't do anything superfluous to the appearance of the stadium. They just completely expose the steel structure, giving them their most natural appearance. The stadium looks like a giant bird's nest that embraces and CARES for humans. It looks more like a cradle of hope for humanity's future.
Construction of the national stadium began on December 24, 2003. In July 2004, the project was suspended due to design changes. Construction resumed on December 27, 2008 and was completed in March 2008. The total cost of the whole project is 2.267 billion yuan.
The stadium covers about 63.6 acres (25.8 hectares) and can accommodate 80,000 permanent seats and 11,000 temporary seats. Its appearance is made of a large steel frame. The top is saddle-shaped, with the main shaft 1,090 feet (332.3 meters) long and the short shaft 972 feet (296.4 meters) long. The highest point of the stadium is 225 feet (68.5 meters) above the ground and the lowest point is 140 feet (42.8 meters). The top is covered with translucent bubble wrap. The material is waterproof, allowing enough sunlight to enter the stadium. Because of this, its lawn can grow well.
At the national stadium, everything is designed to be human. The court was surrounded by bowl-like stands. The stands can be changed in a number of ways to meet the needs of different Numbers of spectators at different times. During the Olympics, temporary seating was placed on top of the bleachers. The arrangement of the stands was scientific. No matter where the spectators sit, they can see the whole game without any visual obstacles. The stadium USES an electro-acoustic broadcasting system. The speech definition index is 0.6. This number ensures that all viewers can hear the broadcast very clearly. What's more, there are more than 200 wheelchair seats for the disabled. Many architectural experts consider it not only the landmark of the 2008 Olympic Games, but also a good example in the history of world architecture.
Facebook Comments