Jing 'an temple, one of the most famous temples in Shanghai,is located on Nanjing west road, Jing 'an district, in the bustling center of Shanghai. In 1983, it was included in the state key protection list.
The temple is over 780 years old. It was built during The Three Kingdoms period (220-280) and was named Qingyuan temple of Hudu. The southern song dynasty (1127-1279) moved from the Wusong river to the present day and was still a busy and crowded place until 1908. The first tram was built with jing 'an temple as its starting point. Later, a famous calligrapher renamed it jing 'an temple in 1945, and it is still named that way today. Unfortunately, the temple was burnt down to ruins in 1972. But after 1984 began to rebuild, Tianwang temple and Sanshengtang have been restored. In 1990, the entire temple was finally opened to the public.
There were eight scenes in the former Jing'an Temple that previously enjoyed great popularity. Most of them are extinct but the Estavel (Yong Quan) which was in front of the temple was excavated in May 5th, 2009. The spring water gushed out day and night, so people called it 'boil well'. It was regarded as the 'Sixth Spring under Heaven'. After reconstruction, the spring was relocated at the crossing of Huashan Road and West Nanjing Road, and regained its former charm.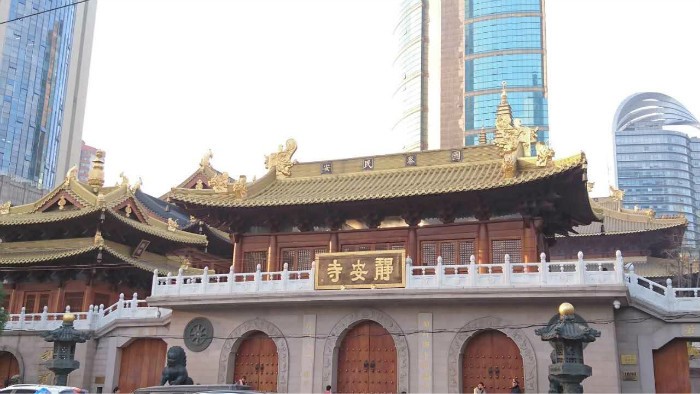 There are three main halls here: The Mahavira Hall, the Hall of Heavenly Kings and the ThreeSage Hall. In Mahavira Hall, the biggest pure jade portrait of Sakyamuni in Mainland China is placed. The jade Buddha has a height of 3.78 meters (about 12 feet), a weight of 2.6 meters (about 9 feet) and a weight of 11,000 kilograms. It was so big that the wall was torn down when it was moved into the hall. With a kind and tranquil facial expression, the Buddha radiates venerability and auspiciousness.
Jing'an Temple is a good place to escape the hustle and bustle of crowds in downtown Shanghai. In the meantime, you can enjoy the marvellous painting and calligraphy by Yangzhou's Eight Eccentric Painters in the Exhibition Hall of Buddhist Relics. An important display of this temple is the bronze bell which was made in the Ming Dynasy (1368-1644).
Temple Fair is held here once a year. In the eighth year during the reign of Emperor Guangxu, Qing Dynasty, the first Festival of Buddha's Birthday was held on 8th day of Lunar April, villagers all came here to sell handcrafted goods, agricultural and sideline speciality products. The Temple Fair lasts three days and many people from near and far came to worship during the fair. Gradually, business in this district became prosperous. From then on, Temple Fair became a tradition, held annually on that day.
Facebook Comments