Tangyuan, one of the representatives of Chinese traditional snacks, is made of glutinous rice flour and other spherical food. There are usually fillings, cooked with soup to eat. It is also the most distinctive food of the Lantern Festival, with a long history.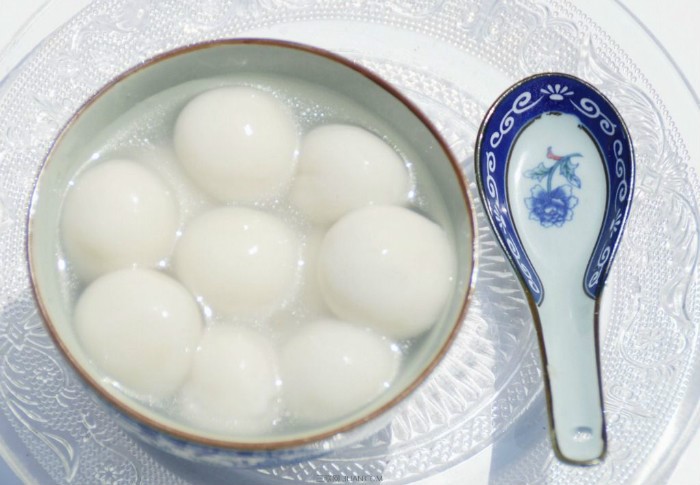 It is said that tangyuan originated in the song dynasty. At that time, mingzhou (now ningbo city, zhejiang province) began to eat a novel food, that is, black sesame, lard do filling, add a little white sugar, outside with glutinous rice flour rub into a circle, cooked, eat up sweet and delicious, interesting. Because this kind of glutinous rice dumpling is floating and sinking in the pot, it was first called "floating yuan zi".
Later, some areas changed the name "floating yuan zi" to tangyuan. However, tangyuan is a better symbol of family reunion. Eating tangyuan means happiness and reunion in the New Year, so it is a must for the Lantern Festival on the 15th day of the first lunar month. In some parts of the south, people are also used to eating tangyuan instead of jiaozi during the Spring Festival.
Sweet dumplings are already sweet, so the soup does not need to add sugar to reduce calorie intake; If there is no stuffing small tangyuan, the soup can be sugar osmanthus, sweet wine, scented tea or longan jujube soup, longan ginger soup instead, the latter can have the effect of filling the body cold; When cooking salty tangyuan can put some vegetables, increase the fiber.
In the face of hot, fragrant tangyuan, can not help but want to bite, young and old must pay special attention to eat tangyuan remember to slow, small mouth, to avoid tangyuan choking throat or trachea. Because tangyuan contains high amount of "sugar", plus sesame, fresh meat, peanuts contain "high fat" and "high calorie", must eat a small amount, do not eat too much at a time.
Facebook Comments