Liuhe Pagoda is a national AAAA tourist attraction with a long history and beautiful appearance. Built in 970 AD, the pagoda's antique and magnificent appearance is perfectly displayed in front of hangzhou's numerous tourists.
Walking into the big pagoda, you can see many murals, carved decorations, and poems of many famous historical figures. Also, the Liuhe Pagoda is in a good location, giving you a chance to see the Qiantang river and the bustling city of Hangzhou.
In 970, Hangzhou was the capital of wu and yue. The king ordered the construction of the Liuhe Pagoda to suppress the tidal bore of the Qiantang river and to build a courtyard. It is said that after the completion of the Liuhe Pagoda, the river surface was surprisingly calm, flowing along the original channel. People don't have to worry about the tide anymore. Due to natural and other long-term damage, the pagoda was restored and rebuilt several times, and the present brick house was built in 1165.
Looking at the Liuhe Pagoda from a distance, you would think of it as the general guarding the Qiantang river. Standing close by, you can see this pagoda nearly 60 meters high, 8 sides 13 stories, antique, magnificent, peaceful and pleasant. A total of 104 bells are hung on the rakes of the tower eaves.
The tower is connected by seven spiral staircases, each with a unique decoration. Starting from the base, you can climb the steep stairs, experience the fun of climbing ancient Chinese towers, and appreciate more than 200 exquisiteness and unique structure of flowers, birds, animals, gods and other carvings. Besides the colorful and somewhat faded grottoes, you can't miss the excellent poems written by historical celebrities such as emperor Qianlong of the Qing dynasty extolling the charm of the Liuhe Pagoda and the Qiantang river.
After climbing seven floors to the top of the Liuhe Pagoda, you may be a little out of breath, but the beauty of the Qiantang river and panoramic images of Hangzhou city will make your efforts worth a lot. Looking out of the window, one could see the turbulent flow of the river. In addition, you can see the Qiantang river bridge, which is the first double-deck railway and highway bridge designed and built by us Chinese, and is a symbol of the progress of Chinese bridge construction.
https://www.chinaexpeditiontours.com/china-tours/family-tours/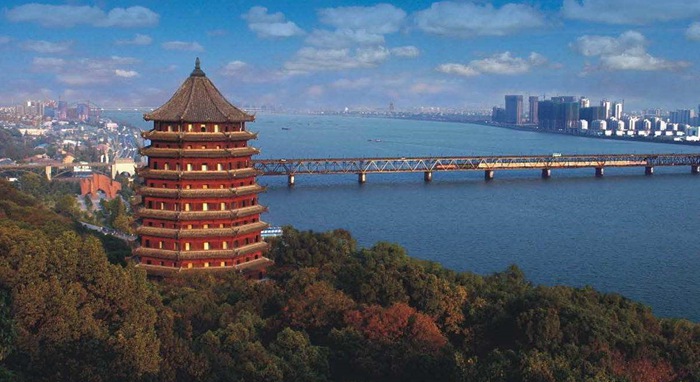 Facebook Comments