Mount Tai, listed as a world natural and cultural heritage site in 1987, is the most important of the five sacred mountains, but it is not the tallest at 1,545 meters above sea level. People call it "the greatest mountain under heaven" because traditional religions such as Qin Shihuang, empress Wu Zetian and emperor Qianlong of the Qing dynasty used it as a symbol of power.
Things can be very different in Taishan these days. When visitors climb mount tai, they are more willing to enjoy the beautiful scenery of sunrise and clouds, witness the ancient scenic spots such as the south heaven gate, the heaven street and the jade emperor peak, and more scenic spots of mount tai are waiting for you to visit.
Main Attractions
Mount Tai
Mount Tai, the top of the five famous mountains in China, is a mountain of historical and cultural significance. It is famous for its majestic momentum, majestic structure, soaring in shyness, taking root in the earth, taking root in the wide foundation. It is also the religious center of the region, providing a base for Buddhism and Taoism. The highest peak is the jade emperor peak at 1545 meters. When climbing, you can start behind or from the north. There is also a round trip cable car from the front for visitors to reach the summit (note: the last cable car descends at 4:30 PM).
The Gate of the Southern Sky
Nantianmen,is the end of the cable car and the only way through the top of mount tai. It covers an area of 1.6 square kilometers and was built by the abbot zhang zhichun in 1264. It is located at an altitude of 1,460 meters and is a loft-style building with stone arches. Decorated with red walls and yellow glazed tiles, the magnificent building looks like a wonder among the mountains.
The street of heaven
After the south gate, the east has a few steps, to the street. The whole street is about 1,000 meters long and extends to the brigitte temple, with hotels, restaurants and various shops on one side and a 1,500-meter cliff on the other. As its name says, walking on the street is like walking in heaven. You can hug the clouds and overlook the whole landscape of mount tai.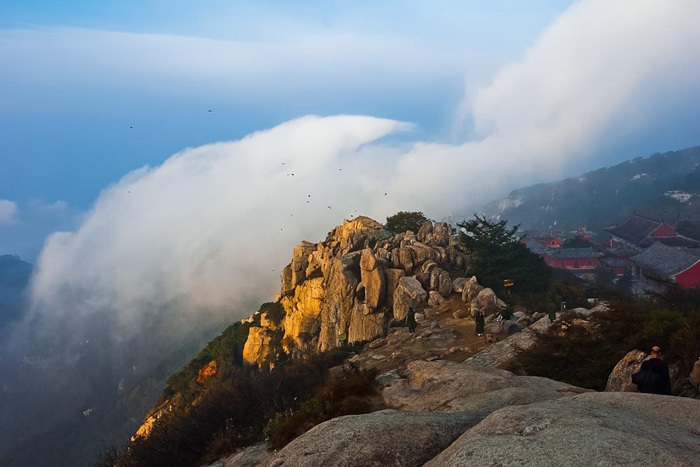 Facebook Comments