As a famous natural landscape garden and summer resort in China, mount wuyi attracts tourists from all over the world every year. It is located at the junction of wuyi city, fujian province, and yanshan county, shangrao city, jiangxi province. In 1999, mount wuyi was included in UNESCO's world heritage list. In 2017, the northern foot of mount wuyi in yanshan county was also included in the world heritage list.
The jiuqu river originates in the west of wuyi mountain. Its water is rich and pure. The river is about 62.8 kilometers (40 miles) long and bends in several places around the mountains. One of the most popular activities in wuyi is to take a bamboo raft down the river and enjoy the scenery. During peak seasons such as July and August, you may need to book if you want to go rafting.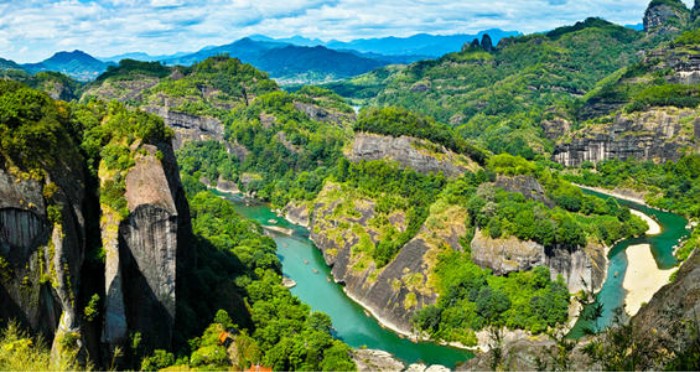 The name of the place shows its uniqueness. When you climb this mountain on a cloudy day, you feel like you are in the clouds on a journey to heaven. It is located in the center of the whole attraction and is about 400 meters (1,312 feet) high. Its unique scenery makes it a must-see place for tourism to wuyi mountain
This is one of 72 caves in wuyi mountain. When you arrive at the scenic spot, you will first see a small waterfall. Keep going up and the hole will come into view. At the top of the cave, two huge waterfalls pour down from more than 100 meters (330 feet), like curtains of pearls falling from the sky.
In the rock where the tiger roars, there is a huge cave. When the wind blows through the cave, a great sound echoes among the mountains, like the roar of a tiger. As a result, the place is known as tiger roar rock.
Facebook Comments