Nanyin is one of the oldest extant musical genres in China, having existed for more than 1,000 years. It is also known as "orchestral music" or "quanzhou nanyin music" (quanzhou is a developed historical city in southeast China's fujian province). Nanyin music originated from court music (the highest level of aristocratic music in ancient China), and later established itself in southern China when court musicians moved south. Beginning in the western and eastern han dynasties (207 BC), and especially in the tang dynasty (618-907 BC), people from the central plains (mainly around present-day henan province) migrated to southern fujian (southern fujian, where quanzhou is located) to escape the civil war. They brought their own musical culture, which later became integrated into the local folk music and became a new type of music: nanyin music.
Nanyin music combines a variety of musical elements, including the local kunqu style of minnan, which is a beautiful music genre with soft and smooth lyrics and melodies. Therefore, it becomes a perfect way for those who come from far away home to express their sad homesickness. It is usually performed in palaces, buddhist temples and theatres. Nanyin's songs are sung in the minnan dialect and retain many ancient words and melodies from central China.
NangYin music mainly USES the straight flute, also known as the "end flute", which is usually 60 cm (2 ft) long and has 10 holes and 9 bars. The tone is deep and rich. In addition to the vertical bamboo flute, other instruments are sometimes used, such as the southern pipa (a lute with a curved neck), the second string (a two-stringed vertical instrument), the third string (a three-stringed plucked instrument), and the clapper (a castanet).
Nanyin music is the essence of music in the high tang dynasty. Nanyin was transmitted by mouth, from quanzhou to fujian and other parts of Taiwan, and even to southeast Asia and Europe.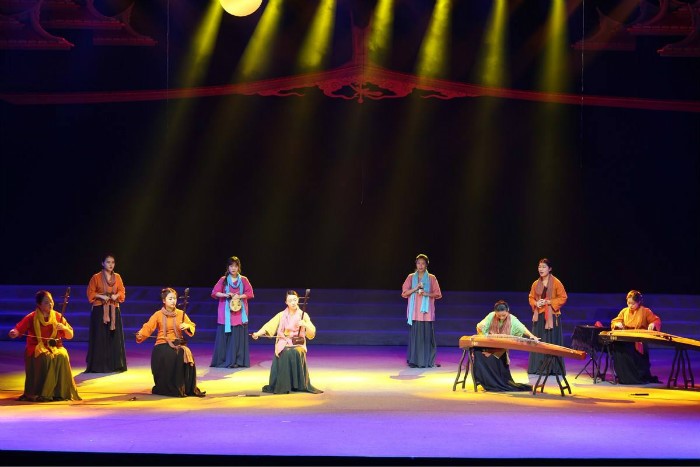 Facebook Comments