Pan-Fried Bun is a traditional snack in Shanghai, Zhejiang, Jiangsu and Guangdong provinces. The bottom of the Shanghai Pan-Fried Bun is golden brown, and the top half is sprinkled with sesame seeds and chives. Smell sweet, bite a mouth full of soup, quite by Shanghai people love. The finished noodles are white, soft and loose, and the meat is tender with marinade. Sesame and green onion are delicious when chewing. The evaluation of it is: "the thin skin is not broken and not burnt, the head of the two leaven depends on baking, fresh filling soup is full mouth, the bottom is thick and dry is a rotten product. This paper not only introduces the advantages of Fried steamed bread, but also reminds diners that those with a "thick and dry base" can not be bought, which will lead to a "ban on eating".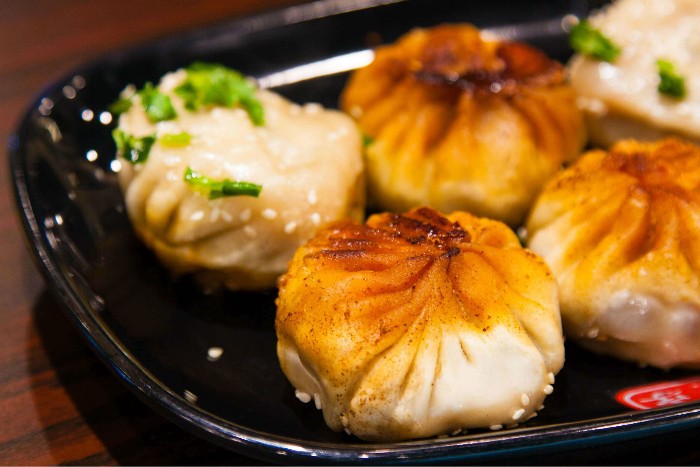 More than 100 years ago, tea houses in Shanghai served tea and Fried steamed buns. Later, when people do not taste tea, also want to "tea heart" as a fast food, instead of dinner. In response to people's dietary needs, steamed buns are served in teahouses and become "street snacks". As demand grew, so did the size of the Fried buns, from the traditional "one or two or four" to "one or two." The skin is big and the filling is big, and the soup is hot. It is impossible to fry the soup without leaking until you have mastered the art. People who do not eat or are impatient, bite down, it is easy to be "sheng jian" in the soup hot.
Midwinter season, eat just out of the pan Pan-Fried Bun, more conducive to drive away the cold, chewing out the fragrance, absorb nutrients. The black sesame seed in the mouth of steamed stuffed bun top closes, still have appetizing and invigorating spleen, smooth gas and in, the wonderful effect that pacify asthma and relieve cough.
Facebook Comments