Hot dry noodles are one of the most famous snacks in Wuhan, Hubei province. Usually oil, salt, sesame paste, salad oil, sesame oil, chives, garlic seeds, turnip diced, brine juice, light soy sauce as auxiliary materials. Its colour is yellow and oily embellish, taste is delicious, because quantity of heat is high, also can regard as staple food, nutrition breakfast, complement the energy that human body needs.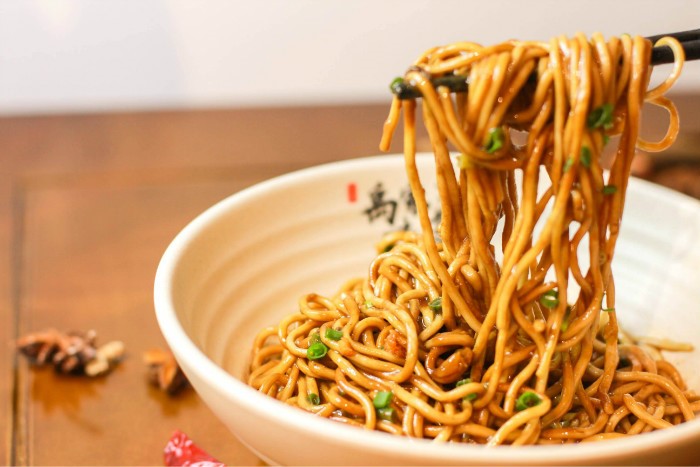 Hot dry noodles are the first choice of Wuhan breakfast snacks, Wuhan people on its feelings, has no need to say. Only from the field to Wuhan to play, they think of Wuhan again, mostly because of the Wuhan hot and dry noodles. Hot dry is no longer just a snack for Wuhan people or friends who have spent some time in Wuhan, but a kind of feelings.
Hot dry noodles is different from the cold noodles, and different from the noodles in soup, noodles cooked in advance, too cold and too oil, oil, vinegar, chili again rape ingredients, such as more, spicy sauce, sesame paste, sesame oil, sweet with a variety of taste, eat noodles and fine smooth chewiness, sauce and spicy taste, colour and lustre is yellow and oil moisten, sweet and delicious, there is a very spicy crisp, is the ancestral secret recipe, inviting appetite.
Hot dry noodles are a delicacy. Wuhan hot dry noodles to do the shop to standard, cook to authentic; Raw materials to be authentic; Condiments should be good; Side dishes should be natural. In addition, still can according to each person be fond of, like hot can join chili red oil, still have pickles, turnip is dried, sour bean horn to wait for optional, add coriander to also can. Before eating the noodles to mix well, sesame paste all paste on the surface, like ants on the tree. Eat again at this time, especially the aroma tangnostrils, taste very good. It's best to make a bowl of eggnog or a bag of milk or a cup of soy milk or a bowl of sweet and sour rice wine while eating. Only eat not to drink, feel the mouth is dry, also can't eat the extreme taste of hot dry noodles.
Facebook Comments