Xiapu county (an ancient part of funing xiapu county) is located in the northeast of fujian province. It is the county with the longest history of eastern fujian, and was once the political, economic and cultural center of eastern fujian.
Because it is located in the coastal area, peninsula type area, the county's land area of 1489.6 square kilometers, sea area of 29592.6 square kilometers. The coastline is 404 kilometers long, accounting for one eighth of the province, ranking first in the province. 185 islands of all sizes.
The long coastline and numerous islands, harbor become xiapu geographical characteristics. It is a port city in the northeast wing of China's economic zone on the west coast of the straits. It is a coastal economic opening county approved by the state council of the People's Republic of China. It is the earliest open trade port with Taiwan in fujian. It is the "hometown of kelp in China" and "hometown of laver in China".
Xiapu is known as "the most beautiful coastline in China" because of its rich natural scenery. Xiapu mudflat is praised as "the most beautiful mudflat in China" by photography lovers, and is one of the "top ten photography bases in China". You can take pictures of countless wonderful beaches, sunrises, sunsets, fog, mountains, fishing boats, local "sea gypsies" and so on. You'll feel like your camera doesn't have enough storage to house all of nature's masterpieces. To the northeast of fujian province, you can visit xiapu county, "the county of kelp", to enjoy these breathtaking sightseeing.
Get your camera ready and watch the sunrise and sunset in Beijing. A few minutes' drive from xiapu county, you can enjoy the unique scenery. In the morning, the golden sun fell on the sea, turning the mudflats into a dreamlike world of color. The most famous tiger-skin markings on the mudflat, the shadow of the fisherman, the shadow of the fishing boat, the poles and so on form a very harmonious picture. In this picture, you will appreciate the "nature of the magician", who makes ordinary points, lines, lights and shadows full of magic.
When you reach the top of the mountain, you will be shocked by the endless mudflats and the gorgeous mudflats dyed red by the rosy clouds. Charming with egrets flying in the sky and steaming bundy-like hills, the whole scene is truly a peaceful landscape of "nature's master".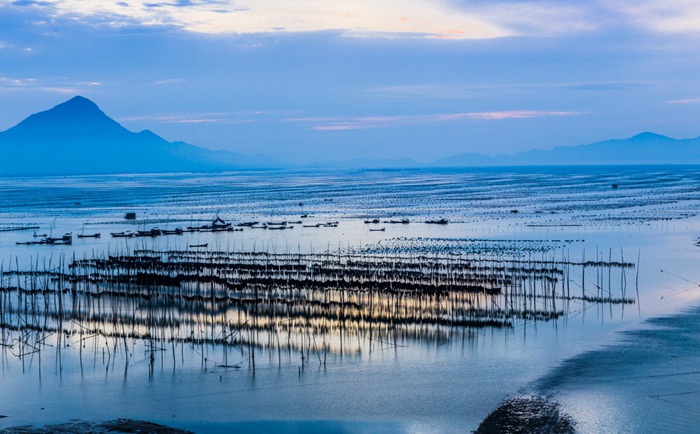 Facebook Comments