The zhaojun museum is located at 9,000 meters. Six miles from Hohhot, it lies on a plain stretching along the north bank of the dahei river. There are many scenic spots in the museum, such as zhaojun tomb, hun culture museum, zen royal tent, and qin palace, zhaojun room, calligraphy and painting studio. Zhaojun museum has become one of the key cultural relics protection units in Hohhot.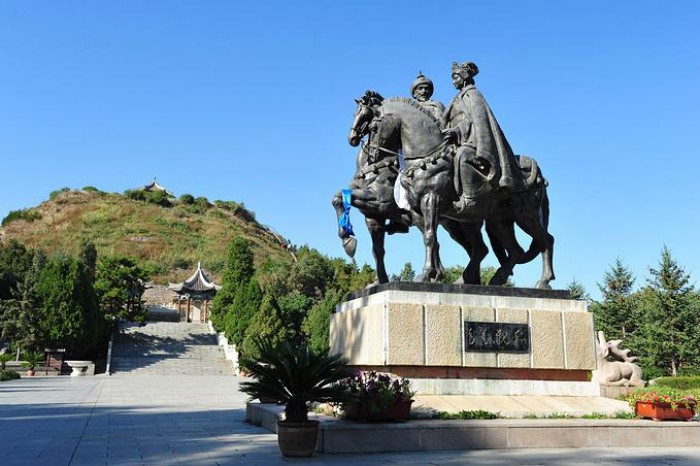 The zhaojun museum is famous for its spectacular scenery. Summer climate is mild, wild flowers and weeds grow luxuriantly, and the towering green trees constitute a beautiful natural picture scroll. When autumn comes to September, unlike the grass that wilts and turns yellow at this time, the grass that grows on the grave is still green and full of life.
The zhaojun tomb in the museum, also known as the "green tomb", is named after the grass growing on it, and is listed as one of the eight most popular attractions in Hohhot. The tomb is a large man-made mound, 33 meters high. 108 feet. It commemorates a great woman named wang zhaojun, one of the four most beautiful women in ancient China, who married the khan and sacrificed herself for the unification of China.
In front of zhaojun's tomb, a bronze statue of wang zhaojun and her husband (khan) depicts their intimate conversation on horseback. These statues are a symbol of the friendly relationship between the han people and the xiongnu people, which was strongly advocated by wang zhaojun.
Behind the steles, stone stairs and a stone platform are connected with the Zhaojun Museum. Upon the stone platform you can find a pavilion. The pavilion offers visitors a good position from which to overlook the scenery surrounding the tomb and the far away Mt. Yinshan.
Facebook Comments