Covering 22,500 square meters, Shanghai circus world (Shanghai circus city) is a good place to be happy near downtown Shanghai. After the opening of the circus, because of its complete facilities, advanced equipment, complete functions, known as China's first circus world. It can not only meet the needs of international and domestic acrobatic competitions and performances, but also serve as a venue for music and dance.
In addition to the excellent hardware, Shanghai circus world also has the best team — Shanghai circus, with professional actors and carefully choreographed programs. With a history of more than 60 years, Shanghai circus stands out on the world stage for its wonderful performances. Venomous performance won the yellow gold medal at the Warsaw international acrobatic competition, kick the bow displayed the city award at the monte-carlo acrobatic competition in Monaco, balanced one-handed displayed the President's award of the French republic at the Marcy international circus festival in France, male art won the golden clown award at the monte-carlo international circus and acrobatic festival and so on.
Even in a city of skyscrapers, Shanghai circus world has never missed the public eye since it was built in 1999. Its unique domed roof makes it a new Shanghai landmark. During the day, from a distance, the building looks like a golden hat with a glossy double brim. When night falls and the lights come on, the hat becomes a striking source of light.
The Shanghai circus world makes full use of its vast space to provide audiences with the best place to enjoy the performances. Acrobatic field as the main body, rehearsal auxiliary building, animal museum, cultural and commercial city as the auxiliary device. The acrobatic field has up to 1,638 seats, and spectators can choose different seats according to different landscapes and prices. The design of this area subtly breaks through the traditional circus world. With lifting platform, rotating platform, stage stage, spreader, road bridge. Advanced lighting equipment and multi – channel sound, to meet the needs of the audience to enjoy the wonderful program. In addition, there are cultural exhibitions, cultural shopping malls, entertainment, catering and other services.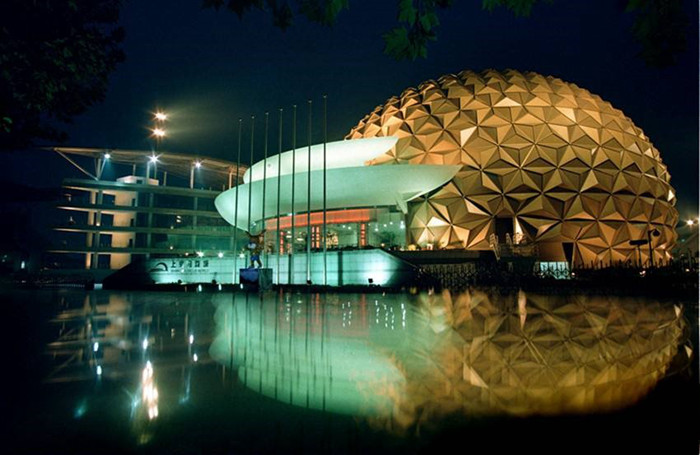 Facebook Comments