Tang tri-colored glazed potteries, known as a shining treasure among ancient Chinese pottery, originated in Tang Dynasty (618AD —907AD).Various tri-colored glazed figurines have been found in many tang tombs, among which the most popular are horses and pillows. There are mainly yellow, green, brown glaze, hence the name.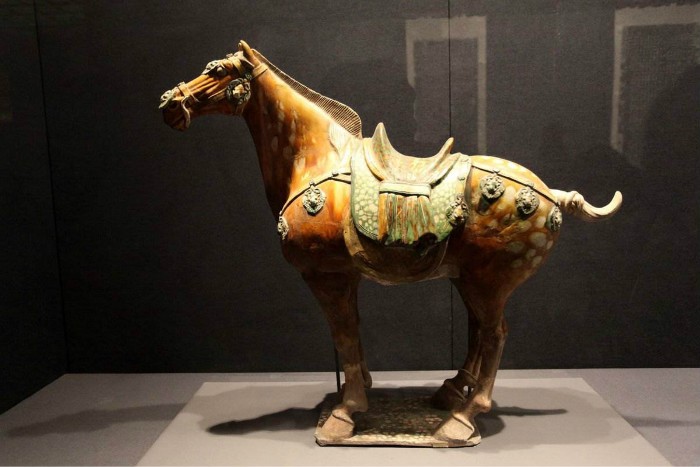 The chemical substances in the glaze change gradually during the firing process, producing an atmospheric and elegant artistic appeal. Tricolor pottery is usually used as a funeral object.
The tri-colored glazed pottery of the tang dynasty was mainly produced in xi 'an, luoyang and yangzhou, important cities along the silk road.
There are historical reasons for the rise of tri-colored glazed pottery in tang dynasty. First of all, the rapid development of the ceramic industry, as well as the continuous improvement of the level of sculpture and architectural art, prompted their continuous combination and development, so from figures to animals and living utensils can be shown in the tri-colored glazed pottery of the tang dynasty.
After the reign of zhenguan in the tang dynasty, the national strength was strong and all businesses were flourishing, which also led to the corruption of the life of some senior officials. The tang was also as a kind of burial objects, have been included in the government's stated, one, two, the doctrine, four items, structures that can allow him to how many pieces, but as these rich grandees, actually does not meet the seem, instead they often than multiples of government regulation to increase a lot, to do this kind of lights.
The official style is so, of course, the folk style is also so, so from top to bottom formed such a thick funeral wind, which is also one of the main reasons for the rapid development and rise of the tang tri-colored glazed pottery in the central plains.The tang people were open-minded and willing to accept foreign cultures from all over the world.
Foreign traders, missionaries, diplomats and artists traveled thousands of miles along the silk road, visiting chang 'an, the capital of the tang dynasty. There are traces of cultural blending in the tri-colored glazed pottery of the tang dynasty.
Facebook Comments