Song of everlasting sorrow is a long narrative poem written by bai juyi, a poet in the tang dynasty. The poem vividly narrates the love tragedy between xuanzong and Yang guifei. With the help of historical figures and legends, the poet created a moving story with twists and turns, and through the artistic images he created, he reproduced the reality of real life and infected readers for thousands of years. The theme of the poem is "eternal hatred". The poem had a profound influence on many literary works of later generations.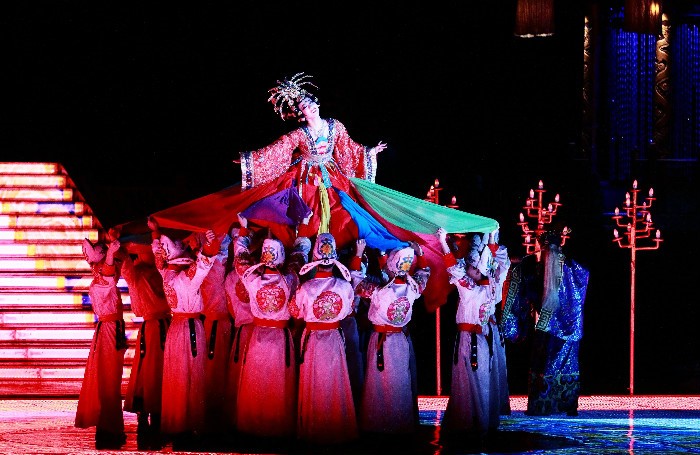 In this long narrative poem, the author narrates the love tragedy of xuanzong and Yang guifei in the anshi rebellion with concise language, graceful image, narration and lyric combination. Tang xuanzong and Yang guifei were all figures in history. The poet did not stick to history, but by a little shadow of history, according to the legend of the people at that time, the singing of the neighborhood degenerated into a twists and turns, which was very touching. As the stories and characters in the poem are artistic, they represent the complex and true human beings in reality, so they can ripple in the hearts of readers throughout the ages.
The beauty of huaqing pool impresses visitors during the day. In the evening, a large live-action historical drama called "song of everlasting sorrow" was staged here to feast the eyes of tourists. The drama tells a touching love story between xuanzong (618-907) and his favorite concubine Yang yuhuan. Their love story happened in huaqing pond more than a thousand years ago.
The song of everlasting sorrow is set in lishan mountain, jiulong lake, pavilions, palaces, willows and lake water. Advanced sound and light technology and specially designed stage successfully realized the integration of history and reality, nature and culture, earth and wonderland, making the performance more magnificent and true.
Song of everlasting regret is a long narrative poem created by bai juyi (772-846), a famous realistic poet in the tang dynasty. Now, the captivating poem has been adapted into a one-scene, 10-scene historical drama that tells a love story divided into four parts: falling in love, inseparable couples, leaving lovers, and a reunion in wonderland.
Facebook Comments