Wood carving is a branch of sculpture. It is one of the traditional Chinese folk handicrafts, which can be divided into three-dimensional carving, root carving and relief. Chinese wood carving has a long history. It originated in the neolithic age, and the beginning of wood carving was accompanied by People's Daily life. It didn't become an art until people began to have artistic ability.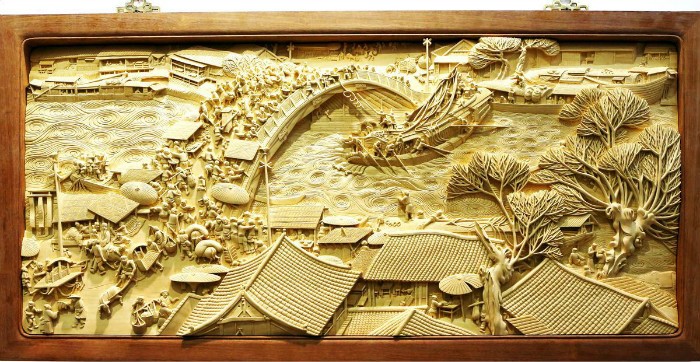 The earliest surviving wood carvings were unearthed in Hubei province in 1980 and are believed to have been made during the warring states period about 3,000 years ago. According to historical records, as early as the Nanqi period , the daily use, decoration and furniture of wood products appeared.
In one of his poems, Han Yu vividly described a woodcarving figure. During the song and yuan dynasties, some painters began to pay attention to wood carving and painting. In the Qing dynasty, wood carving reached a new peak, with many artists specializing in wood carving. Today, many precious wood carvings are preserved in the Forbidden City in Beijing and the Yuyuan garden in Shanghai.
According to different uses, wood carvings can be divided into two main categories. Practical wood carving has practical function and ornamental value. They can be used as chairs, tables, sofas, screens, flower frames, etc. In addition, there are decorative wood carvings. This carving is used only for decoration and makes up a large part of all wood carving. They are shaped into countless animals, flowers and human beings.
The process of wood carving has four steps. The first step is to choose the materials. The quality of a material of lumber should tenacity, rosewood, sweet wood, mahogany is ideal woodcarving material. In the shape to have their own characteristics, which has a great impact on the creation of the future. Wood carving is original and the creator should make full use of the original form and natural beauty of the material.
He or she must find the best idea based on the wood he or she chooses and try to preserve the wood's properties, such as fibers, holes and textures. The principle is that three-tenths of the work is done by man and three-sevenths by nature. That's step two. The wood will then be sawed, trimmed or polished. Different methods will be used depending on the shape of the wood. The final step is to colour or paint the product.
Facebook Comments