Tunxi ancient street, or tunxi old street, is located in the center of tunxi district, huangshan city. Tunxi ancient street, with a history of more than 630 years, is the best preserved street in the southern song dynasty (960-1127), Ming dynasty (1368-1644) and qing dynasty (1644-1911) dynasties. In addition, 2009, tunxi ancient street, Beijing guozijian street, suzhou pingjiang road, won the "Chinese history and culture street" reputation. It is listed as "state key cultural relic protection unit".
Tunxi ancient street, made of marble slabs, is 1272 meters long, of which the main pedestrian street is 832 meters. It starts from the west of zhenhai bridge and is 5 to 8 meters wide at the eastern end of qingquan lane. The old street faces the green mountains and is located at the junction of rivers and rivers. The whole district is shaped like a fish. It consists of a main straight street, three lanes and 18 lanes. An ancient western European architect once visited the old street and said he had discovered "ancient Rome in the east". The Chinese call it the flowing Qingming Festival.
Tunxi ancient street has a history of more than 630 years. The formation and development of Tunxi ancient street benefited from its position as an important water transportation hub (960-1279) since the song dynasty. Along the river, it can reach hangzhou, the city of heaven; On the river, from tunxi ancient street, it can transport goods to half of huizhou and is considered an economic and transportation hub.
During the Ming and Qing dynasties, huizhou merchants began to rise, leading to the rapid development of tunxi ancient street. It flourished in the late qing dynasty, with old Chinese private Banks, pawnshops, silver shops, pharmacies, grocery stores, restaurants, shops selling tea, silk, porcelain, salt, sugar… During the republic of China period (1912-1949), it was known as "little Shanghai" because of its prosperity.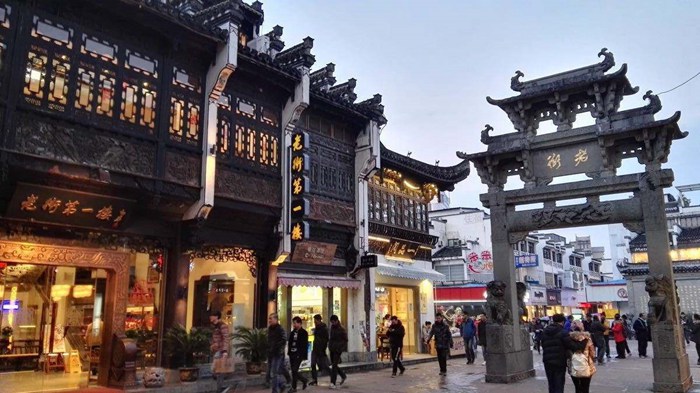 Facebook Comments