West Street is the oldest street in Yangshuo, with a history of more than 1400 years. This street is located in the center of Yangshuo County. Since 1980s, it has become the window of eastern and Western culture and the largest "foreign language center" in China. It is the most prosperous area in Yangshuo. Every year, about 100000 foreigners come here to travel or study. West Street attracts tourists with its unique cultural combination.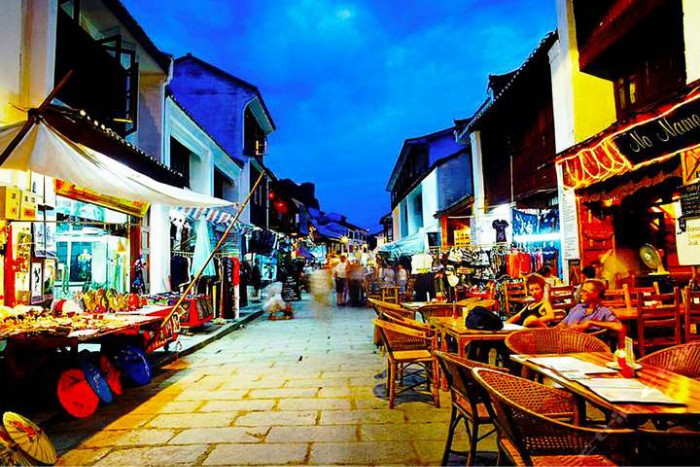 West Street, 517 meters long and 8 meters wide, twists and turns along its length. Made entirely of marble, this is a typical example of a street in southern China. It is popular with foreigners for its simple style and courtyard like environment. There is a saying that "half is a village, the other half is a shop".
Because sometimes the number of foreigners exceeds the number of Chinese, this street is also known as "foreigners Street". Don't be surprised if you hear the English words spoken by old Chinese women, because this street is called "global village". In addition to Yangshuo's local accent, English has become a daily language. West Street is modern and fashionable. Almost every shop has a bilingual shop sign. More than 20 shops have been opened by foreigners who have settled here.
Chinese people who travel there may think they are in a foreign country, while foreigners come here to look for ancient Chinese civilization. However, whether you are Chinese or foreign, this is a good place to rest, physically or mentally. West Street will drive away all your pressure and burden and give you a peaceful outlook on life. It presents different faces at different times: calm and peaceful in the morning, fashionable and modern in the evening. Traveling to that place is an experience with the scenery, with people, with soul, with yourself.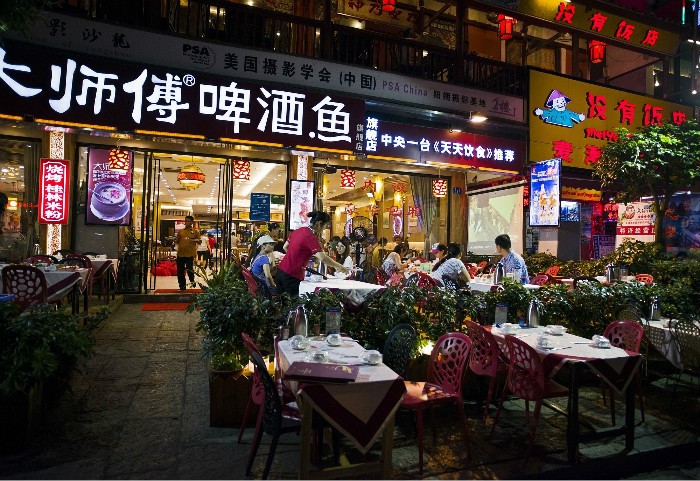 Visit West Street, you will be surrounded by a series of traditional folk customs and amazing international elements. Various shops, handicraft shops, calligraphy and painting shops, backpack shops, coffee shops and China Kungfu academy are competing to attract attention. You can see a lot from embroidered silk, batik and weaving to the small shoes worn by women before liberation in 1949. In addition, in other places on the street, you may find bars and cafes, some of which are operated by foreigners, decorated with bamboo rafts, fish baskets, batik tablecloths, etc.
West Street not only gives you visual satisfaction. You will be tempted by food from all over the world: Chinese New Year cake, Yangshuo rice noodles, authentic Italian coffee, banana cake, Western food and so on. So now, choose a coffee shop and ask for a cup of coffee. Let the beautiful scenery and music take you to a wonderful world.
Facebook Comments