In the West White Poplar Gully, there are snow peaks, steep mountains, tall spruce and green grass. The white yurts, exquisite villas, elegant sanatoriums, hotels and snack bars, all of which add to the vitality of the deep mountain canyon. The scenery is more beautiful. A waterfall with a height of more than 40 meters and a width of about two meters is like a white practice hanging in the air. It flows down like a silver dragon flying and roars like a drum. At the falling place of the waterfall, the spray is all over the place, and the water drops are flying. It is like drizzle in the mossy rocks and dark green trees on both sides, cool and pleasant.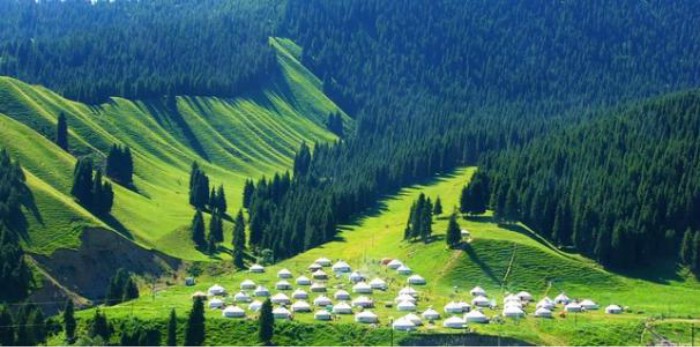 The word 'Urumqi' originally means 'Beautiful Pastures' in Mongolian. Fortunately in the suburb of the city of Urumqi there lies the Southern Pastures, a beautiful pasture the pastoral Kazakh inhabit and graze in summer. Covering an area of 119 square kilometers (about 45 square miles), Southern Pastures, the natural large and famous summer resort, 75 kilometers (about 46 miles) away from the city, is located in the Southern Mountain, the area at the northern foot of Karawuquntag Mountain.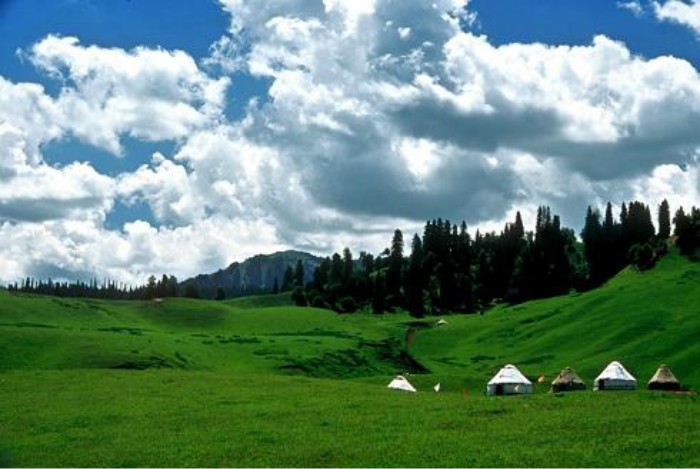 It takes you about one hour by bus from Urumqi to get to West White Poplar Gully which is one of most typical sights. On the way, you can see the bright snowcapped Karawuquntag Mountain, the wandering valleys, hear the gurgle of springs, and smell the lush spruce trees. In the thicket of the lush spruce trees, let your eyes delight in the traditional villas and the scattered Kazakstan yurts as they paint the grassland.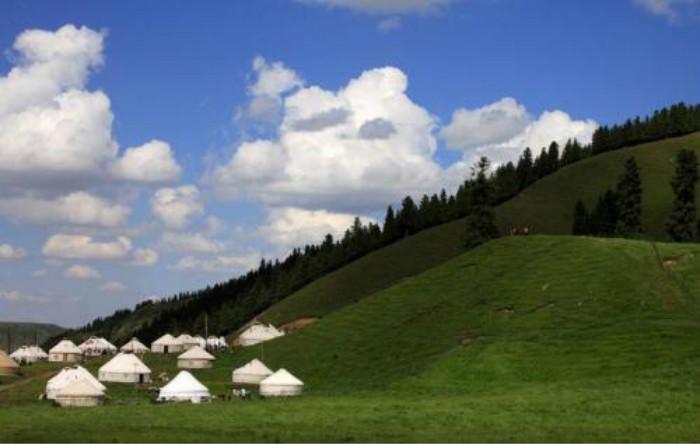 As you stand in Southern Pastures, you can see the forest of emerald green spruce on a chain of undulating grass hills dotted with combined flocks and herds. As you immerse yourself in this beautiful site, the singing of the Kazakh may envelop you and inspire you to sing with them. You can visit one of the traditional yurts locating in the spruce forest where you will be welcomed by a generous host with fragrant milk tea, mare's milk, cheese and roasted lamb. If you are lucky enough, you will be able to observe the amazing horseracing and traditional Kazakh dancing.
Facebook Comments