Yangshuo is located in the southeast of Guilin city, about 65 kilometers away from the urban area, is a small county, has more than 1,400 years of history, known as "the world of tourism" reputation.
There is an old saying that "Guilin's landscape is the best in the world, while Yangshuo's landscape is the best in Guilin". The charming Yangshuo has always attracted numerous tourists from all over the world. Once you step, its characteristic idyllic rural opinion, emerald lovely karst landform mountains rise, peace in the Lijiang river scenery like the traditional Chinese ink painting, all kinds of interesting outdoor activities, experiences, connotation and international cultural vitality in ancient China, and so on will tell you why it makes travel list high foreign visitors come to China every year!
Take a comfortable cruise downstream from Guilin to Yangshuo on the Lijiang river to see why it is known as the "one hundred mile gallery". Here you can see vivid rural views including green patch fields cultivated by local farmers, water from buffalo grazing, flowing ducks swimming, bees dancing in flowers… There are also many outdoor experiences here, such as cycling, fast, bamboo rafting, hiking, kayaking, hot air ballooning.
One of the best outdoor activities to feel the essences of Yulong River and Li River with great landscape enjoyment and fun of water.Yulong River bamboo rafting is the most favored for Yangshuo visitors, as you can appreciate the comparatively more serene countryside view and authentic life style of local residents. Furthermore, taking the most traditional non-motorized bamboo raft steered by the boatman, you will catch the more enjoyable moments to lay back and immerse into the infinite joy and peace! There are several interesting bamboo rafting routes with different docks and highlights along the whole Yulong River from Fuli Bridge, Jinlong Bridge, Xiangui Bridge, Jiuxian County, Jima, Shuiedi to Gongnong Bridge. Check the detailed top 3 recommended routes and select your favorite one!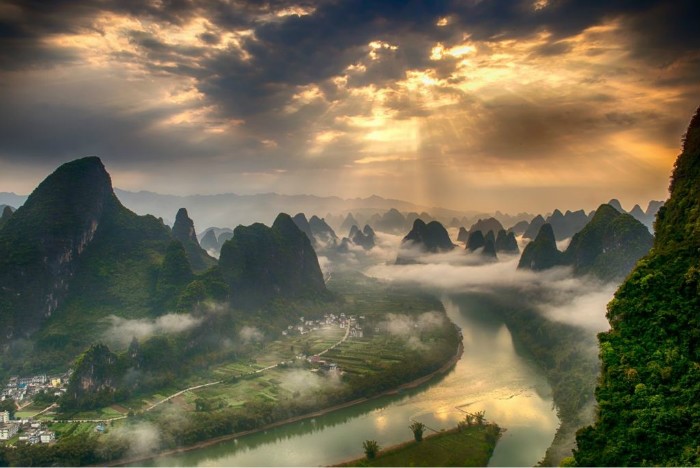 Facebook Comments