Almost all of the terra-cotta officers wore a flat bun and a distinctive hat. Some are about 15 centimeters (6 inches) long, rectangular in shape, with a curved back; Some are trapezoidal; The backs of some of the headdresses were twisted like pheasant tails. In real life, they are made of leather or layers of wax cloth. The headdresses are mainly ochre or vermilion. On either side of the helmet there are ropes tied to the soldier's head.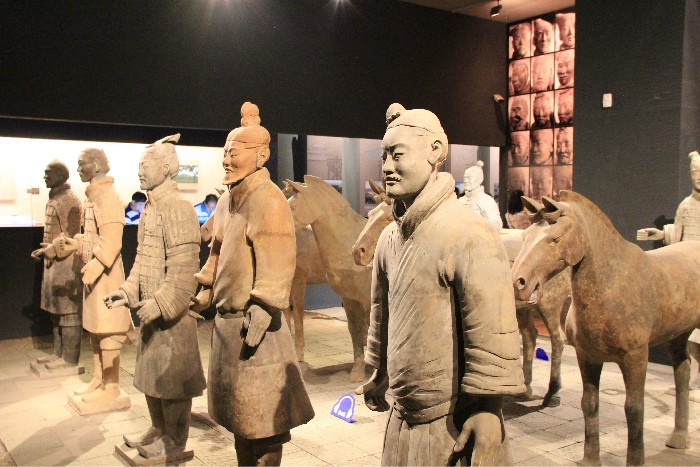 As for costumes, most of the terra-cotta warriors wear knee-length robes. However, some senior officers wear double-decker uniforms, while others wear single-decker uniforms. Single and double coats have the same long sleeves. On closer inspection of these warrior officers, it is easy to see that almost all of them are wearing trousers.
Almost all of the terra-cotta officers are covered with smooth edges and colorful lace, which is used to protect them in battle. Different ranks of officers have different armour.
In real life, the armour of senior officers is made of leather. The front of the armor is below the warrior's chest, and there are small sutured plates at the back. Where there are no plates, colorful patterns are painted on the armor, and you can find several knots made of colored shoelaces. Some of the armour of senior officers had shoulder guards, others did not.
Junior officers have two different kinds of armour. One is a breastplate with a strap, which has shoulder pads and no back, and was probably made of a piece of leather during the qin dynasty (221 bc-207 BC). In the center of the leather are 11 rows of boards. We can see the elaborate geometric pattern drawn in its brackets. The second style is a colorful scaly coat that covers the front and back as well as shoulder pads. As its name suggests, many small square scales are attached to the leather and assembled into a complete armor.
Ordinary officers wear unlaced armour. The armor is made of hundreds of black and brown steel plates. The front is longer than the back, and there is no pattern on the armor.
Facebook Comments