The terracotta warriors are considered one of the greatest archaeological finds in the world and one of the greatest finds of the 20th century. With the construction of Qin Shihuang's mausoleum, people can see the prosperity of the Qin empire.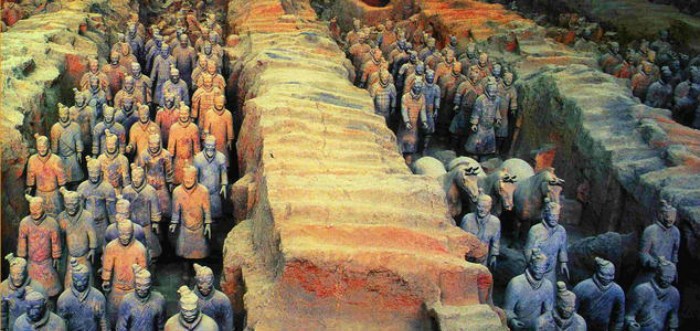 At first, when armies were established, the whole army, including warriors, chariots, and horses, was colored and looked more colorful than it does today.
Craftsmen painted the terracotta warriors in different colors to make them more realistic. For many reasons, the terracotta warriors we see today have faded. How are the terra-cotta warriors made and made
Over the course of 2180 years, they underwent slow oxidation due to groundwater penetration, then moist saturation, followed by rapid oxidation and dehydration when the vault was opened and exposed to the air in 1974. Almost all warriors and horses were painted, but because they had been buried for more than 2,200 years, the paint was so old that it began to change within 15 seconds of being unearthed. Within four minutes, the paint layers held together by the paint dehydrate, tilt, and break off the surface.
According to statistics, there are dozens of colors on the terra-cotta warriors, including light green, vermilion, fuchsia, pink, sky blue, white and so on. Of these, the first four colors are the most common.
Different types of warriors are painted with different colors. Ordinary statues are depicted with complex colors and finer details than ordinary statues. In addition, statues with special postures, such as the famous kneeling statues, were also painted more delicately.
The Terracotta Warriors were still colorful when they were unearthed. Relics-protection experts found that the purple appearing on the terracotta statues was a kind of artificial color. The basic pigment is synthetic barium copper silicate, not found in nature. Even today, it's still hard to make.
Facebook Comments