Baiyun mountain national forest park was established in September 1992. It is located in the southern song county seat of luoyang, the hinterland of foulu mountain ridge, with a total area of 168 square kilometers (64.9 square miles). It invites visitors to refresh themselves in its natural beauty.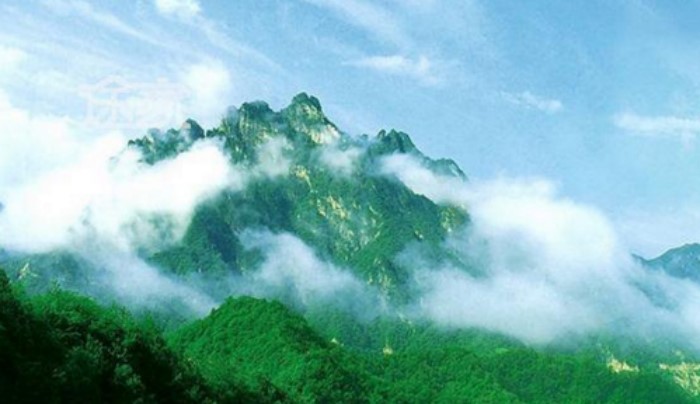 The forest coverage rate is 98.5%, which is in the transitional zone between warm temperate zone and subtropical zone. The vegetation of north and south China coexists here. In baiyun mountain national forest park, 204 species of animals, 1991 species of plants, 3000 species of insects. For example, there are ancient and rare plants: dendrobium and alpine rhododendron, as well as some rare animals: giant salamanders, leopards and golden eagles. It is a good place to appreciate the original beauty of nature. Water curtain cave, folding waterfall and fairy pool are all here. The scenery is beautiful beyond description.
At 2,150 meters (7,054 feet) above sea level, baiyun peak is one of the main peaks of funiu mountain. It is shrouded in clouds all year round, just like a fairyland on earth. There are folk songs and proverbs that say mountains can indicate changes in weather through the position of the surrounding clouds. Dazzling and fascinating, it's the perfect place for climbers to find something new.
This is the highest point of the funiu mountain ridge, considered the highest point in central China, rising 2,216 meters (7,270 feet) above sea level. The mountain peak is shaped like a crown and seems to reach straight into the sky. From the top of the mountain, visitors can enjoy magnificent panoramic views of the vertical distribution of vegetation, as well as the fascinating sunrise and sea of clouds.
Small huangshan is called small huangshan because it reminds people of the famous huangshan in anhui province, which is famous for its strange rocks. The beauty and strangeness of small huangshan are fascinating. Various rocks have been given strange names, such as the sea fairy, the twin stone and the bird's nest stone.
These waterfalls are formed by the white river, which rises from the peak of the jade emperor. It has a constant supply of water, rushing down, washing out the scattered waterfalls and deep pools. The jiulong waterfall, qinglong waterfall and the amur pool are the most attractive attractions in the area. In addition, there is an 814-foot bungee jump, considered the highest in Asia, offering visitors a chance to challenge their metter.
The park's average summer temperature is below 18 degrees Celsius (64.4 degrees Fahrenheit), with the highest temperature below 26 degrees Celsius (78.8 degrees Fahrenheit). It is a magnificent summer resort, but the blooming flowers in spring, the clear sea of water and clouds in summer, the deep red leaves in autumn and the majestic baiyi mountains in winter make baiyun mountain national forest park a year-round Chinese resort.
Facebook Comments