The detian waterfall scenic spot is located in daxin town, chongzuo city, guangxi zhuang autonomous region, about 145 kilometers (90 miles) from downtown nanning and surrounding Vietnam. This scenic spot has more than 40 tourist attractions. Among them, the most striking is Ban gioco-detian falls.
The waterfall crosses the border between China and Vietnam and is connected to banjuk falls in Vietnam. It has the reputation of being the second largest transnational waterfall in the world. Perhaps you have seen the famous Niagara Falls. You are impressed by its majesty. Similarly, the majestic tokuda waterfall gives a sense of breathtaking magnificence.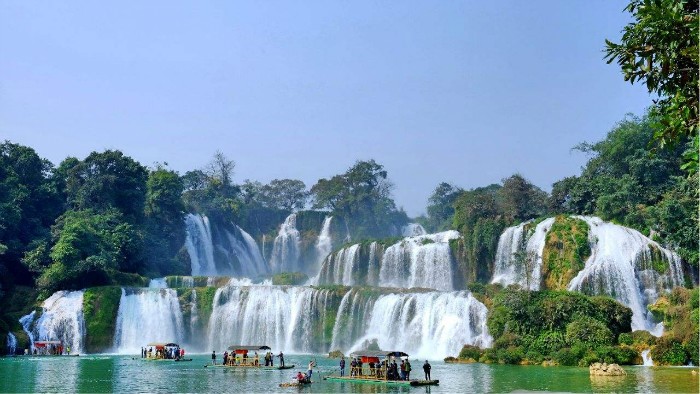 Below the tokuda falls is a deep pool more than 200 meters (0.12 miles) wide and more than 30 meters (0.02 miles) deep. There are many big fish in the pond and the fish are delicious. So the villagers who live there often come to the pond to catch fish. They usually sing folk songs while casting nets. The wild songs echoed in the mountains, a joyous, carefree, lively atmosphere.
Besides the detian waterfall, there are many other attractions waiting for you to visit, including heishui river, qiaomiao lake, guichun boundary river, shadun waterfall, no. 53 waterfall, as well as numerous cultural relics and rare animals. Abundant rainfall and moderate temperatures have brought evergreen to the picturesque landscape.
The blackwater river, as it is called in English, is dotted with verdant plants and strange hills. Of course, the water is not black. It gets its name from the black reflections of trees and hills. When you row on the heishui river, you can see the rotating water wheels, the houses of the minority zhuang people, the terraces and the laboring farmers.
Qiaomiao lake covers an area of about 5000 mu, surrounded by green mountains. The lake was as calm as a mirror. The mountains, trees and clouds reflected on the lake like a picture. Boating on miaomiao lake, listening to folk songs, enjoying the bright moon, enjoying the peace granted by heaven in the earth.
Guichun river originated in jingxi, baise city, guangxi. It flows into Vietnam and then back to China. The two countries are bordered by this river. On one side are zhuang-style buildings, on the other side is the face of another country. It's interesting to think about the difference.
Shatun waterfall is another famous waterfall in the scenic area. The waterfall runs down seven terraces. Compared with the tokuda falls, the sandun falls are not so magnificent. It looks like a gentle woman who associates herself with the fascinating nature.
Facebook Comments