Wulong county, located in the southeast of chongqing city and 139 kilometers from the city center, is a karst landscape in southern China. The county is 82.7 kilometers from east to west and 75 kilometers from north to south, covering an area of 2,901.5 square kilometers. Wulong is best known to Chinese tourists for "curse of the golden flower," a famous film directed by famous Chinese director zhang yimou. In 2014, transformers: age of extinction was attracted by the natural scenery of the small county, and more and more people were attracted by the gorgeous karst scenery of wulong.
The main attractions of wulong are the natural scenery, many of which have been listed as world natural heritage sites. Here are four of the most popular attractions: the three natural Bridges to the wonder of the world, the magical furong cave, the immortal mountains in the vast grassland and the magnificent longshui gorge. Wulong is the kind of place where you are struck by the wonder of nature.
Three natural Bridges
Located in the southeast of wulong county, 20 kilometers from wulong county, is the largest natural bridge group in Asia. Featuring a classic karst landscape, the magnificent landscape is alive with trees growing directly from the stones, and the water even flowing on top of the bridge, dripping and shining like pearls. The three natural Bridges, consisting of tianlong bridge, qinglong bridge and heilongjiang bridge, are natural Bridges connecting the mountains on both sides across the yangshuihe gorge from north to south. Under the bridge there are naturally formed pit, so called tiankeng three bridge.
Tianlong bridge is the first bridge 235 meters high and 150 meters thick. It is also known as the tiankeng no.1 bridge. The most unique part of tianlong bridge is its piers, which have labyrinthine caves. The main cave is 400 meters long, and there are all kinds of passageways leading to all kinds of strange caves.
Qinglong bridge is the second bridge, also known as the second tiankeng bridge. The qinglong bridge is the steepest of the three. The bridge is 281m high and 168m thick. When the rain is over and the sky is clear, you can see the colorful light through the opening of the bridge.
The Black Dragon bridge is the last bridge, so it is also called tiankeng sanqiao. The black dragon bridge is 193 meters wide, 223 meters high and 107 meters thick. The openings are long and high, and the light is luxurious. Until it is open to the public, local villagers stop passing it after 4pm because it has been dark since then. Besides, the black dragon bridge is considered the most beautiful of the three. Incredibly, at the top of the bridge, there are large tracts of farmland from which the four springs of the black dragon bridge were formed.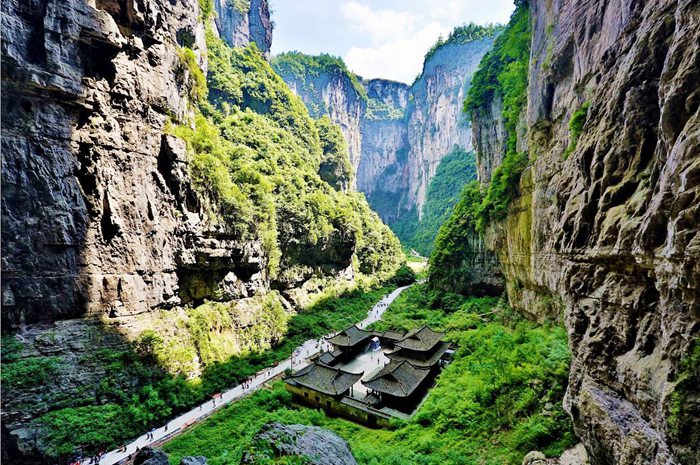 Facebook Comments