The Mogao Caves are the holy land of buddhist art treasures. A network of board-reinforced roads stretches from north to south for 1, 600 metres (5, 249 feet) leading to cave openings that are five stories high and some as high as 50 metres (164 feet). Mogao, by the way, means high in the desert.
According to records from the tang dynasty (618-907), a monk living in wuhuzhou and 16 states witnessed the sight of the thousand Buddha caves in the golden light. Inspired by this, he began the construction of caves spanning ten dynasties. The Mogao Caves are commonly known as the thousand Buddha caves.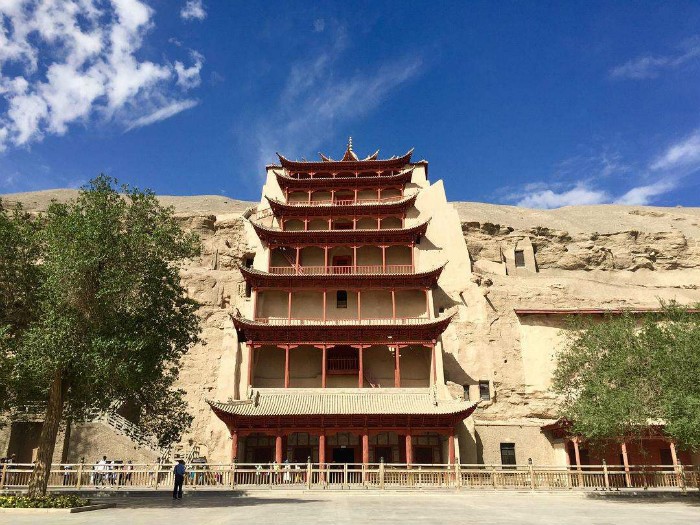 Buddhist art originated in India. The Mogao Caves sculptors improvised in places where the chiseled rock surfaces did not work well. They put clay sculptures in front of the rock walls, carved relief murals as backgrounds, and decorated the walls and ceilings with art. The largest statue is 34.5 meters (113 feet) tall, while the smallest is just 2 centimeters (0.79 inches) tall.
Travelers will notice traces of Indian buddhist art in earlier works. Recent works depict local life and activities. As you explore the 735 caves, you will relive everyday life and special events captured by the artists. Over the centuries, the quality of art has fluctuated, depending on the fate of Buddhism and art patronage. Artists of each dynasty painted with their own unique palette. Visitors can distinguish the works of the tang dynasty from those of the song dynasty (960-1279).
The 25km (15.5-mile) gallery space is believed to be full of art from the mogao grottoes. In addition to artifacts, there are 50,000 manuscripts in multiple languages. The mogao grottoes are a treasure house of over one thousand years of historical and cultural exchanges between China and other countries.
Facebook Comments