Wuzhen Water Town is a typical ancient town in south China, located in the north of tongxiang city, zhejiang province. It is 80 kilometers (50 miles) from hangzhou and suzhou, and 140 kilometers (87 miles) from Shanghai.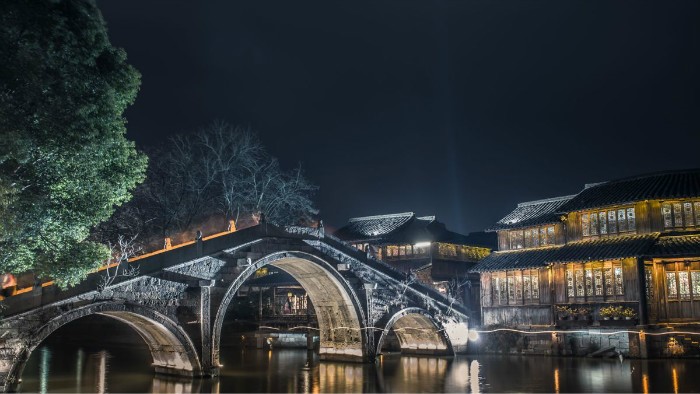 Wuzhen water town is one of the six ancient towns in the south of the Yangtze river with a history of more than 6,000 years. It has well preserved the ancient appearance of the water town, emitting the charm of the water town itself. The house in this town is made of black bricks and grey tiles, which in stark contrast to the white walls make it look like a Chinese ink painting. Stone Bridges are everywhere. Boats with black awnings floated on the gurgling river. Whether you are walking along the river or along the paved lanes, you will be impressed by the picturesque scenery and leisurely lifestyle.
Wuzhen is divided into four scenic spots by a crisscrossed river, known as dongza, nanza, xizza and beiza. As nanza and beizha are less developed, tourists often prefer to go to dongza and xizha. Donza has maintained its basic original layout, while xiza has been rebuilt to recreate the old watertown. Compared with dongza, xiza is more prosperous with numerous shops.
In this area, there is a museum that might interest you, the Chinese foot-binding culture museum. In ancient China, women's feet were called "golden lotus flowers". In order to make their feet more beautiful, the young girls were forced to wrap cloth around their feet. As a result, their feet are deformed and sometimes cannot even support them firmly. Many pictures and models of these scenes are on display in the museum. In addition, more than 500 pairs of shoes in the museum are worth seeing because they represent the evolution of ancient Chinese shoes.
In wuzhen Xizha, the bridge may be surprised by two ancient Bridges, one of which is tongji bridge crossing the river from east to west, and the other is called ruijin bridge running from south to north, joining the front end. Either of the two Bridges can be seen through the arch of the other. Tongji bridge is a single-curvature arch bridge 28.4 meters (93.1 feet) long, 3.5 meters (11.4 feet) wide and 11.8 meters (38.7 feet) across, which has undergone five reconstructions. Also undergoing historic restoration, the yanji bridge is 22.6 meters (74.1 feet) long, 2.8 meters (9.2 feet) wide and 8.5 meters (27.9 feet) across.
There are also other interesting hotspots in xiza, such as the xuchang pickles workshop, a shop selling pickles made with traditional techniques, zhaoming academy, wujiang temple (the heroic general killed in battle), and hongniang temple.
Facebook Comments