Qiandao lake is a clean, fresh air lake, forest coverage rate of 81%. It was a young lake that was formed in 1959 due to the construction of the new anjiang hydropower station. It is a beautiful lake with 1078 islands and different sceneries in different seasons. It was a rich lake, full of fish, surrounded by trees, tea, mulberry (food for silkworms) and other fruit trees. Qiandao lake is also a pleasant lake with many activities, including enjoying the natural scenery and local culture, observing wildlife, and participating in many exciting activities.
Qiandao lake is located in chun 'an county, about 150 kilometers (93 miles) west of hangzhou and 140 kilometers (87 miles) southeast of huangshan. It is a bright pearl on the classic hangzhou-qiandao lake-taishan golden road line. Huangshan has become the most popular place in the world.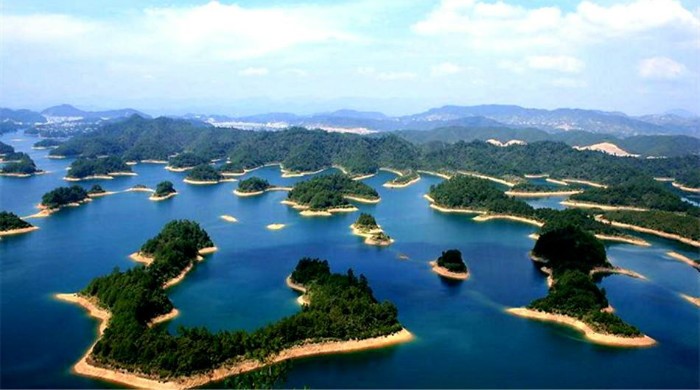 Qiandao lake is famous for its green mountains, clear water, strange caves and strange rocks. Nongfu spring, a famous brand of mineral water, draws its water from this lake. Qiandao lake scenic spot can be divided into six parts according to the geographical location. They are: the southeast lake district (the first to be developed), the central lake district (combining several must-see attractions), the southwest lake district, the northeast lake district, the northwest lake district and the fuxi stone forest (the first stone forest in east China), each with its own unique and eye-catching landscape.
In the southeast lake district tianchi (paradise pool), you can find a quarry site dating from the southern song dynasty (1127-1279),Xianshan admiration mountain island, this osmanthus island and misha (bee honey mountain) island (the story of a boy is a boy, two boys are half boys, three monks have no water to eat "origin). In the central lake district, there are qiandao lake fishing village, meifeng island, wulong scenic area and animal interest area. At meifeng island, you can experience water skiing and boating from a high point overlooking the scenery. Wulong scenic area by suodao, bird island, really interesting garden and strange stone island composition, there are several Bridges between them. Lock island is a lock world, including happiness lock, wisdom lock, health lock and carp lock. It is the site of China's first lock museum, the largest lock in the guinness book of world records. Peacocks, snakes, monkeys and ostriches can be seen in the area of animal interest. You can enjoy it by watching animal shows, feeding them, playing with them and taking pictures of them.
The best time to visit qiandao lake is in autumn and winter, when there is less rain. Good weather, cool fresh air and clear water are pleasant. Be sure to sample local seafood and food. Souvenirs brought home like ink stones, hemp embroidery and pearl products.
Facebook Comments